'Ellie's started getting flashbacks... she doesn't know if it was rape,' says Hollyoaks' Sophie Porley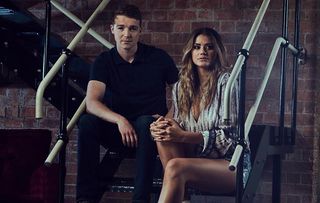 (Image credit: Graham Morris)
Distraught Ellie Nightingale's worst fears about her night with Nick Savage in Hollyoaks continue to haunt her, reveals actress Sophie Porley…
Sophie Porley tells Soaplife that things are about to reach a head as Ellie Nightingale buckles under the strain of hiding her feelings towards Nick Savage, who she's convinced raped her during their drunken night together.
What does Ellie think about her night with Nick (Ben Ryan Davies)? "The problem is, she can't pin it down in her mind. She's started getting flashbacks and she has a feeling that what happened wasn't okay. She doesn't want to say it was rape as she's not quite sure."
But Nick thinks nothing of it… "And that makes her feel even more insane. She's like, 'Why is he acting so normal?' His behaviour's freaking her out. They didn't know each other before, so it's not as if she can sit down and talk about it with him. It's awful. She wants to forget about it, but she keeps bumping into him."
Why hasn't she told anyone? "She tried to tell Lisa [Rachel Adedeji] initially, but she shut her down and that put her off. She feels dirty and she's upset about what happened, but she's unable to put it into words. Also, she doesn't want Freddie [Charlie Clapham] to find out. She isn't sure he'll understand and she doesn't want to lose him."
But it has already had an impact on their relationship, hasn't it? "Yes. Freddie can sense that something is up, but he doesn't know what. She's acting weird with him, but she can't help it. Neeta [Amrit Maghera] encourages Ellie to have a romantic evening with Freddie, but she gets flashbacks of what happened with Nick and leaves when they get physical."
What happens when she then sees Holly with Nick? "Holly [Amanda Clapham] and Ellie are not the best of friends, but Ellie has this instinct to protect her. Ellie wants to do the right thing. She doesn't trust Nick and she'll feel it's all her fault if anything happens to Holly. But Holly takes her concern the wrong way and she assumes she must be jealous."
If the truth comes out, will it destroy Ellie's relationship with Freddie? "Who knows? They have quite a few secrets already. For example, she doesn't know he slept with her mum, Marnie [Lysette Anthony]! I hope they can come through as they're completely in love."
Have you enjoyed the whole consent storyline? "I feel so grateful to have been given it. I've worked with some great charities. It's such a common situation. What I learned is that we shouldn't focus on teaching girls how not to get raped, we should teach boys not to rape."
Hollyoaks, Channel 4
Get the What to Watch Newsletter
The latest updates, reviews and unmissable series to watch and more!