Hollyoaks car crash carnage! And Nathan can see that not everyone will get out alive…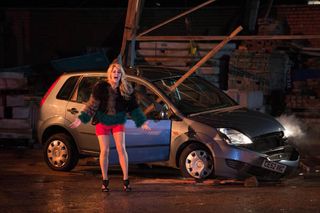 While Channel 4 Hollyoaks viewers are still reeling from Easter Monday's sickening car crash involving Holly (Amanda Clapham (opens in new tab)), Cleo, Nathan and Rachel, we can reveal that there is worse, much worse, to come…
Drunk and emotional, Holly should never have been behind the wheel of a car – and now she's going to pay for it after smashing into the broken-down car of Nathan (Jared Garfield (opens in new tab)) and Rachel.
But Holly's not the only person who will pay.
Drunk Holly staggers from her car and screams at Nathan to help Cleo
Channel 4 viewers saw Holly and Cleo (Nadine Mulkerrin (opens in new tab)) returning from the airport, where Holly had taken the heart-breaking decision to let the love of her life, Robbie (Charlie Wernham (opens in new tab)), leave for a new life in South Africa with his twin, Jason (Alfie Browne-Sykes (opens in new tab)).
Nathan and Rachel (Jennifer Brooke (opens in new tab)) were also leaving, about to start a trip of a lifetime to South America but, as our pictures show, that dream goes up in flames after the horror crash.
Viewers of E4's first-look Hollyoaks will already know how this nightmare plays out.
We're not going to give everything away but, as you can see from our pictures, the outcome is grim.
Nathan gets Cleo clear just before the car is hit by a falling tower
Holly has managed to get out of her car but Cleo is trapped. Holly screams at Nathan to help her… They've crashed into a tower that is threatening to collapse and Holly can't get Cleo out on her own.
Nathan races to their car and manages to free Cleo just before a massive metal container falls straight on to Holly's car. Phew!
Nathan is shocked by a massive explosion
Now it's time for Nathan to get back to Rachel, who's still stuck in their car…
The emergency services have arrived – but not in time to prevent an explosion.
And the look on Nathan's face says it all.
The firefighters can't prevent a tragedy…
See exactly how the tragedy unfolds in Hollyoaks (opens in new tab), C4, Tuesday, March 29, 6.30pm.
Thank you for signing up to Whattowatch. You will receive a verification email shortly.
There was a problem. Please refresh the page and try again.