Hollyoaks' Charlie Wernham reveals Robbie's deadly deal with Trevor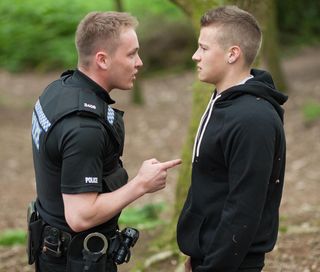 Robbie may live to regret working for villainous Trevor, but his twin, Jason, may not be so lucky, Hollyoaks (opens in new tab)' Charlie Wernham (opens in new tab) tells Soaplife…
Why is Robbie working for Trevor Royle?
"He has come out of prison and he means business. He looked at his grades and thought: 'I'm not going to be a lawyer, so let's go and earn money this way' by working for Trevor [Greg Wood]."
Why does Robbie have drugs on him?
"When Trevor asks Robbie to kill Kim [Daisy Wood-Davis], he tries to do the right thing and begs him to spare her. Trevor says that Robbie has 12 hours to get Kim to leave the country – or else she's dead! Robbie books her a ticket to Spain and they head to the airport, but Trevor's set up Kim by putting drugs in her bag."
How does Jason get involved in a car chase with Robbie?
"On the way to the airport, Kim changes her mind about leaving and causes Robbie to swerve the car. Jason [Alfie Brown-Sykes] sees him driving erratically and catches him up. They end up having a bit of a fight about their past and all the problems they've had."
And Jason goes over a cliff?
"I can't give away the details of what happens, but I can reveal we did some stunts on location, which involved wearing harnesses at great heights. It was really exciting."
How does Robbie react when Jason falls?
"Robbie's horrified. However, rather than stay and help, he runs away. He's got drugs on him and he needs to get rid of them."
Does Robbie regret leaving the scene of the accident?
"Yes, he runs off to ditch the drugs and the car, but then he goes back to the scene. The police are already there and it's too late to do anything."
Will Jason forgive Robbie if he survives?
"Jason won't be happy if he lives to tell the tale, But you wouldn't be if you'd gone over the edge of a ravine!"
Get the latest updates, reviews and unmissable series to watch and more!
Thank you for signing up to Whattowatch. You will receive a verification email shortly.
There was a problem. Please refresh the page and try again.