Hollyoaks' Tamara Wall warns: 'Grace plans to get rid of Warren, but save Sienna for herself'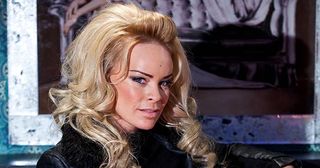 Grace Black is out for revenge in Hollyoaks and she wants it to be brutal. If her plan works, Warren and Sienna won't know what has hit them
Hollyoaks' ruthless Grace Black is done with grieving for husband Trevor. Now she wants revenge on his other woman, Sienna – and her new bloke, Warren. Tamara Wall reveals all to Soaplife
How is Grace coping with Trevor's death? "She went through a patch where she was numb and now she's put her Grace head back on."
How does she feel towards Sienna? "Grace thinks it is Sienna's fault that Trevor [Greg Wood] is dead. However, they share this moment where you think they might actually end up as friends. Only they know what it's like to lose Trevor and, for a second, you believe they want to look out for one another."
What makes her change her mind about Sienna? "When she realises Sienna is involved with Warren [Jamie Lomas]. It's a dagger in the heart. Sienna's told her how much she loved Trevor, yet she's now in love with Warren. That's it for Grace. She's on the warpath."
Why does she hate Warren so much? "First, he tried to kill her sister, Clare [Gemma Bissix]. Now, he's with the girl she most hates and he's trying to take over the village."
What's her plan to get rid of him? "Warren's making everybody's life hell, so it's easy for Grace to recruit a gang of helpers in Tony [Nick Pickard], Darren [Ashley Taylor Dawson], Nancy [Jessica Fox] and Maxine [Nikki Sanderson]. It's so funny. She is sat there telling them all what to do. It's like The Godfather. But they're pretty rubbish at following orders. Grace plans to get rid of Warren…without going to prison for it. But she'll save Sienna for herself. Whatever she has planned for Sienna will be hardcore."
Will it get dangerous? "Of course! She's out for blood this time!"
Where will this end? "I don't know, but I hope it continues. Warren and Grace are such a good fighting match and I love working with Anna Passey, who plays Sienna."
Hollyoaks, Channel 4
Get the latest updates, reviews and unmissable series to watch and more!
Thank you for signing up to Whattowatch. You will receive a verification email shortly.
There was a problem. Please refresh the page and try again.