Hollyoaks' Parry Glasspool: 'Harry doesn't have to hide his feelings because it's kind of out there'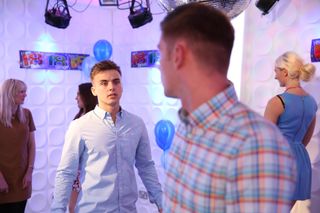 Ste is the one that the Hollyoaks (opens in new tab)' birthday boy wants, Parry Glasspool (opens in new tab) tells Soaplife…
Why is Harry still insisting he isn't gay?
"For years he has been telling himself that he isn't. He is a footballer and homosexuality doesn't go down well in that world. He doesn't want the label and by burying his head in the sand, he doesn't have to deal with it."
Does he feel guilty about John Paul losing his teaching job?
"Of course he does. But he is looking out for himself. John Paul [James Sutton] begs Harry to tell the truth, but he is too ashamed to admit that the hotel room he booked was actually for him and Ste [Kieron Richardson]. It's now a question of whether or not he will man up and decide he can't stand back and ruin other people's lives."
How did he feel when everybody saw him with Ste?
"Horrified, but I think part of him felt it was a tiny weight off his back. He doesn't have to try and hide his feelings so hard now because it is kind of out there. His desire for Ste is strong."
Will he tell the school about his kiss with John Paul?
"I think he realises that the consequences would be severe if the school found out about that."
How is Harry going to move on from this?
"He is quite a confident guy and I think that once his friends find out he is gay, he can move forwards."
Does Harry love Ste?
"He thinks he does. Tony [Nick Pickard] warns him that Ste is a train wreck, but Harry thinks he can handle him and the HIV."
What can you tell us about Harry's 18th birthday bash?
"Tony wants to have it in The Hutch, but Harry is like, no way, I am a man now. He has it in The Loft and is all over Ste…"
Get the latest updates, reviews and unmissable series to watch and more!
Thank you for signing up to Whattowatch. You will receive a verification email shortly.
There was a problem. Please refresh the page and try again.