Hollyoaks star Anna Passey: Sienna Blake enjoys 'spark' with Brody as she makes dramatic return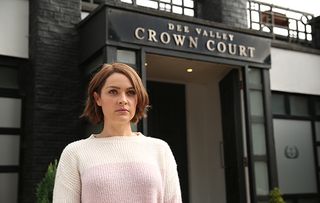 Will Sienna get involved in a revenge plot?
Hollyoaks actress Anna Passey has teased that Sienna Blake might be getting up close and personal with Brody Hudson as she makes a dramatic return next week.
Sienna is seen being released from custody next Thursday and Anna reveals she could soon be heading for a romance with Brody.
"She finds an unlikely connection with Body. He is going through a difficult time, and Sienna can empathise with what it's like to have a painful past. However, they find there is a spark, which is tricky, as he has been seeing Liberty."
Explaining why Sienna was out, Anna, 34, said: "She has been released after her trial, as the CPS ruled that what happened with Nico was self-defence. What she doesn't expect is for Nancy to be waiting outside the court for her."
Anna, who first joined Hollyoaks in 2012, paints a blissful picture of Sienna's new goals in life, saying that her alter ego wants to become a teacher and help people.
However, it sounds like Sienna could soon be getting dragged into Nancy's plot to get revenge on Darren.
"Nancy figures that Sienna owes her one (which let's face it, she does), so she wants to enlist Sienna's help in getting revenge on Darren, after discovering his affair with Mandy.
"Sienna likes that Nancy has forgiven her for the past, but doesn't want to get involved in her plan."
Meanwhile, Anna says she's having a great time being back. "It's so nice to be working with Jess Fox (who plays Nancy) again! I love her, and I love Sienna and Nancy together. I also can never say no to a bit of Sienna and Grace madness."
And she revealed that she loved Sienna's new bob!
Hollyoaks continues on C4 and E4.
Main pic: David Fisher/REX/Shutterstock