'I'll be surprised if Mercedes gets to keep her baby,' says Hollyoaks' Jennifer Metcalfe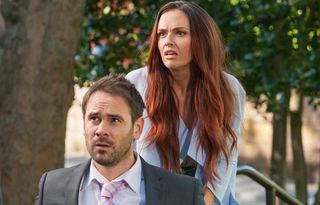 Pregnant Mercedes thinks having a baby with Joe Roscoe may be the making of her, Hollyoaks star Jennifer Metcalfe tells Soaplife. But only if she gets to keep the child…
Why is motherhood right for Mercedes now?
"She's older and she wants to make up for past mistakes she made with Bobby, who's her little boy living in America."
Does she want to see Bobby again?
"I don't know, but there's always a chance of a reconciliation. However, she isn't allowed to see him because the last time she had him she dangled him off the top of a block of flats. I'll be surprised if she is allowed to keep this baby!"
How does Mercedes feel about Phoebe's death?
"Phoebe [Mandip Gill] was always cared for by Jacqui [Claire Cooper], who was her closest sister, and she sort of left Phoebe in Mercedes' incapable hands and told her to watch over her. Mercedes failed and that's hit her hard."
How does she feel about Joe (Ayden Callaghan) being her baby's dad?
"He's certainly no worse than her and they have a mutual respect. They're creating quite a nice friendship. They need each other because they're not as close to their families as they used to be."
What about Lindsey, Joe's ex?
"Lindsey [Sophie Austin] wants to be Mercedes' best mate again, so she's finding it quite difficult. Mercedes is trying to keep her at arm's length when all Lindsey wants to do is help out?"
Is this why Mercedes considers having an abortion?
"I think she's considering it because she thinks she should. She looks at the situation and she thinks it's probably not right. But when she actually has a heart-to-heart with John Paul [James Sutton], she realises she wants the baby more than she realised. I've always wanted to show more of a softer, maternal side to Mercedes. But she won't be a conventional mother, she'll do things her own way."
Hollyoaks, Channel 4
Get the What to Watch Newsletter
The latest updates, reviews and unmissable series to watch and more!