Jessica Ellis reveals Tegan's pregnancy drama in Hollyoaks: 'She retrieves the test and sees it's positive!'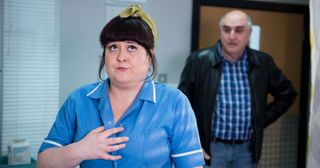 Hollyoaks star Jessica Ellis reveals what happens when things get serious – and not in a good way – between Tegan and Nick
Fun-loving Tegan Lomax is terrified when she fears she is pregnant with Nick Savage's baby, Hollyoaks star Jessica Ellis reveals to Soaplife…
What does Tegan see in Nick? "They clicked from the moment they first met at the traffic light party. Also, Tegan is lonely. She likes Nick's friendly, cheeky nature and, of course, they work together. He's boosted her confidence."
What does she think about being his bit on the side? "To be fair, she thought he'd finished with Holly Cunningham when they first slept together. She believes him when he says that nobody gets him like Tegan does and that Holly is silly. She has it in her head she'll get him in the end."
How does she come to be caught in a state of undress at work? "It's so humiliating. Tegan is lying on a bed with her top unzipped waiting for Nick when this elderly male patient walks into the room and finds her… she's mortified."
Is it the final straw? "In a way, yes. She tells Nick she isn't prepared to be his bit on the side any more. She basically says he can have her, but only if he gets rid of Holly. It's incredible as all of the girls have been after Nick – his male ego must be loving it!"
Why does Tegan think she's pregnant? "She feels sick. At first, she assumes it's a hangover, then wonders if she might be pregnant. She does a test, but she drops it in the bin when Courtney Campbell interrupts her. Later, when she takes it out, she sees a positive result!"
How does she react? "She's terrified. She doesn't know what to do. Should she keep it? Should she tell Nick? Her head's spinning."
How does Nick react to the pregnancy news? "He turns round and he says she was just a bit of fun. She sees a side to him then that she hasn't seen before. It changes her view of him. He's a bit cold and she's left thinking 'Who is this person?'"
Would she tell Holly about her and Nick? "She has it in her. Nick's made her angry and he's pushed her buttons. She has the potential to ruin things for him."
What's next for Tegan? "You'll see her hit some dark times as she tries to deal with what has happened with Nick, plus stuff from her past."
Get the latest updates, reviews and unmissable series to watch and more!
Thank you for signing up to Whattowatch. You will receive a verification email shortly.
There was a problem. Please refresh the page and try again.