Hollyoaks newbie Krupa Pattani: 'Farrah will cause a lot of drama without really meaning to!'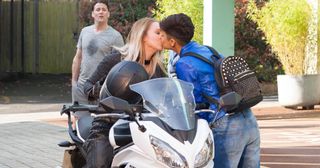 Actress Krupa Pattani reveals that Hollyoaks' new arrival Farrah Maalik is hiding a dark past and set to cause a stir…
Talk about making an entrance! Farrah Maalik roars into Hollyoaks on a motorbike, kisses a girl, then removes a biker jacket to reveal a pair of heavily tattooed arms.
"She makes no apologies for who she is," actress Krupa Pattani told Soaplife. "She's confident, passionate and openly gay. She isn't like any other woman in Hollyoaks and she's set to cause a stir!"
What can you tell us about Farrah? "She's a clinical psychologist and she'll be working at the hospital. She's like a healer of mental health, so I guess she's going to be very busy in Hollyoaks! She's interested in people and she's very close to her sister, Yasmine, and her mum, Misbah. She's well educated, quick-witted and brilliant at her job."
What brings her to Hollyoaks? "Farrah comes because her family are in the village. She's also starting a new phase in her life."
Is she single? "Yes, and she likes to play the field. Something is going to come up for her with Kim Butterfield and Esther Bloom. She's going to cause a lot of drama without really meaning to. She's a well-intentioned character with a lot of integrity."
Does she have any skeletons in the closet? "Definitely. She comes across as someone who's got everything sorted with this great job and the ability to handle everything, but she has a dark past and it's not to do with her sexuality. It's just part of who she is."
Are those tattoos real? "No, they transfer them on. I have to have them put on in make-up whenever I wear short sleeves. It's quite exciting having tattoos. I don't have any in real-life and it's made me think I might actually get one."
What else have you done on TV? "I played Shazia in the BBC1 series Citizen Khan, and I've been in Emmerdale and EastEnders, but only in minor roles. I was a bank manager and a carer in Emmerdale and a doctor in EastEnders."
Did that give you a hankering to do more soap? "Yes, it did. I thought 'How amazing would it be to do this every day?' But I never thought it would actually happen. I'm so grateful to be in Hollyoaks. Everyone is really lovely and the other cast members have taken me out for dinner and stuff."
Are you relocating? "I'm relocating from London. Liverpool's amazing. There is so much going on and it's so much more accessible than London."
Get the latest updates, reviews and unmissable series to watch and more!
Thank you for signing up to Whattowatch. You will receive a verification email shortly.
There was a problem. Please refresh the page and try again.