'Maxine's terrified she'll lose Minnie!' reveals Hollyoaks' Nikki Sanderson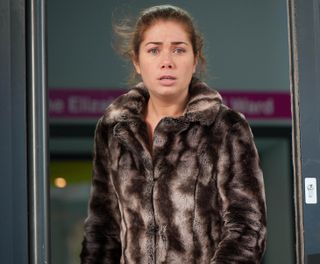 Hollyoaks' shattered Maxine faces yet more trauma as daughter Minnie fights for her life, Nikki Sanderson explains to Soaplife…
How is Maxine coping?
"She's devastated. Minnie's her whole world and she's terrified she'll lose her. She isn't over Dodger, as she loved him a lot, but she's trying to rebuild her life and she's happy with the way it's progressing. She has a good support system in Darren [Ashley Taylor Dawson], Nancy [Jessica Fox] and Tony [Nick Pickard]. They're all 100 per cent behind her, whereas a few months ago she was isolated and alone. Having this extended family has given her the strength to fight Patrick."
Does she feel anything for Patrick?
"Nothing other than disgust and hatred. Patrick [Jeremy Sheffield] broke her down to nothing and got rid of any feeling Maxine had for him. She knows he'll never change and she can't go back to someone who treated her so badly. But she can't get way from him because he's Minnie's father and he's doing everything in his power to make Maxine's life miserable."
Darren's doing the opposite… What about this fundraiser he puts on for Minnie?
"It's to generate money for Down's Syndrome and it's held in The Dog. Maxine's really touched. She and Darren have had some ups and downs over the last few weeks and he does this to get back into her good books. Maxine has no idea he's planning it and it's a lovely surprise when she finds out."
Not for Patrick, though…
"No. Patrick comes storming into the pub and he goes mental at Maxine for taking Minnie, who's supposed to be with Theresa [Jorgie Porter]. But when he sees this wonderful charity event, he has to bite his tongue, smile along and look like the doting father."
So how do they end up at the hospital?
"At the fundraiser, Darren notices Minnie isn't breathing properly. They take her to hospital where they discover she has a heart defect and she needs an emergency operation to survive. Maxine's so scared of losing her baby that she runs away with Minnie. When she eventually takes her back to the hospital, her bed in intensive care has been taken, so she and Patrick spend a night panicking, wondering if she's going to be all right."
Then Patrick has a fall at the hospital…
"Maxine sees it and doesn't know why he's fallen. Part of her is concerned, but the other part wonders if he's faking it to manipulate her. He's simply harbouring secrets as he always does."
Have Darren and Maxine got the potential to fall in love?
"They get on really well and both deserve happiness, so let's see if Cupid aims his arrow at them!"
Hollyoaks, Channel 4. Click here for dates and times.
Get the What to Watch Newsletter
The latest updates, reviews and unmissable series to watch and more!