Oh no! Rory Douglas-Speed reveals Joel could lose Cleo in Hollyoaks!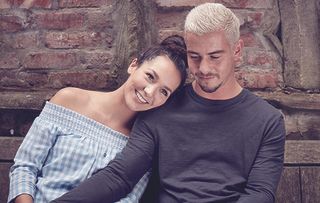 (Image credit: Graham Morris)
Joel has found true love with Cleo – but his dark secret is creeping to the surface, reveals Hollyoaks' Rory Douglas-Speed
Joel Dexter is enjoying life outside of the priesthood, Rory Douglas-Speed tells Soaplife. But his dark past threatens to ruin everything, especially his relationship with Cleo McQueen
What's the story?
Joel Dexter has taken off his dog collar, moved into the McQueens' with Cleo and is feeling loved-up. But the big skeleton in his closet – Bart McQueen's murder – has started to rattle loudly. "And things are about to heat up very quickly," Rory Douglas-Speed told Soaplife. "Joel is terrified of Cleo finding out about his soul-destroying secrets."
What's happening in Hollyoaks? See the latest storylines
Rory Douglas-Speed's Soaplife interview
Soaplife: How does Joel feel about his new life?
Rory Douglas-Speed: "He has no regrets about leaving the priesthood. He is very happy with the decision. He has got the girl and there'sno guilt there. He's moved into the McQueens' and it's all plain sailing."
S: Does it feel odd being there and knowing what happened to Bart?
RD-S: "Yes. There is a lot of guilt and resentment there over what happened to Bart. It is all going to come out at some point and it's going to be really tough for Joel."
S: Is he afraid that Warren will find out the truth about Katy's death?
RD-S: "Yes! He is terrified of that because if Warren finds out it could result in Joel's death."
S: Why is he going to Tanzania?
RD-S: "Well, it gives him the chance to spend time alone with Cleo and help the community. It's very crowded at the McQueens', so it will be good to get away. It's also a means of getting away from all the trouble. At one point, when things get a bit tricky, he and Cleo consider bringing the trip forward."
S: While we know that Cleo is pregnant, Joel remains in the dark…
RD-S: "And he'll be shocked when he finds out! He has only recently stopped being celibate, but he's a good guy. What they have is true love. They have this incredible rapport. They've both been through so much and there is a strong connection there."
S: How long will the relationship last?
RD-S: "We don't know, but it will be a roller coaster ride. I hope it lasts as I love working with Nadine Mulkerrin, who plays Cleo. I'm so lucky as I have been paired with Nadine, Jamie Lomas [Warren] and Anna Passey [Sienna]. As you can imagine, I'm having a ball. I've had such great, intense storylines since I joined and I just hope they keep on coming."
Hollyoaks, C4
Get the What to Watch Newsletter
The latest updates, reviews and unmissable series to watch and more!