How to watch Adventure Time: Distant Lands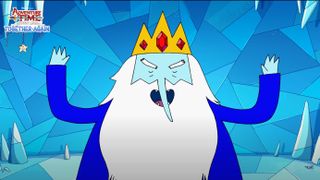 (Image credit: WarnerMedia)
The critically acclaimed and Emmy award-winning Adventure Time concluded in 2018 after 10 seasons, countless comics, several video games, and even a card game. But we haven't seen the last of Finn and Jake!
Coming exclusively to HBO Max (opens in new tab), Adventure Time: Distant Lands (opens in new tab) will feature four hour-long specials diving back into the lives of Finn, Jake, and their family and friends.
Two of the series — BMO and Obsidian — already have been released. We've got one more — Together Again — headed our way on May 20. And a final fourth installment will come at some point after that.
What is Adventure Time: Distant Lands anyway?
As Adventure Time neared its end, the team moved away from largely unconnected episodes to miniseries, each made up of eight episodes to tell a single story. Adventure Time: Distant Lands is taking that concept one step further with a series of four hour-long specials. Each of these four specials will be focused on one or two characters from Adventure Time, telling stories of their lives since our heroes saved the Land of Ooo. These four specials began in 2020, with the first — BMO — premiering on June 25. (Read our full review of that one.) Obsidian followed on Nov. 19. You can read our full review of Obsidian here.
Up next is Together Again, which premieres May 20 on HBO Max.
BMO: After setting out on a mission to grow potatoes on Mars, BMO (that's pronounced "BEE-mo," for you new folks) finds himself taken off course by an alien creature named Olive. They land on an unfamiliar planet facing complete destruction, and it's up to BMO to save the day! Available June 25, 2020.
Obsidian: On a mission in the Glass Kingdom, Princess Bubblegum and Marceline the Vampire Queen meditate on their relationship. Available now on HBO Max.
Together Again: Finn the Human and Jake the Dog reunite for the most important quest of their lives, but can they rediscover their brotherly bonds along the way? Premieres May 20 on HBO Max.
Wizard City: In an attempt to relearn magic, Peppermint Butler enrolls in Wizard School, but when mysterious circumstances lead to Pep as the number one suspect, he must master magic to prove his innocence. Expected to air in 2021.
How do you watch Adventure Time: Distant Lands?
Unlike the rest of Adventure Time which aired on Cartoon Network and a number of streaming services, Adventure Time: Distant Lands is exclusively available on HBO Max.
It may eventually make its way to other services for purchase, but for the time being, the only place you can watch is HBO Max (opens in new tab). As a plus, all of Adventure Time is currently available on HBO Max as well, so for a low monthly fee, you can watch it all and see the new specials.
What is HBO Max?
Fair question. HBO Max is the latest iteration of HBO and the HBO streaming service. In one sense, it is HBO. It has all the same content that you've had on your legacy HBO service. But it's also much more than that. It includes content from other WarnerMedia-owned properties, like TBS, TNT and TCM. Plus it has anime from Studio Ghibli, the DC Universe, and new exclusives from HBO itself.
HBO Max costs the same as the legacy HBO service — $14.99 a month. (So there's no reason to keep that legacy HBO service, and you've likely already been switched over for free anyway.)
HBO Max is available on every major hardware platform — including Amazon Fire TV and finally on Roku.
And if you're looking for a great way to beef up your HBO Max experience, you can augment it with any of the myriad services that offer up free movies and shows.
Get the latest updates, reviews and unmissable series to watch and more!
Thank you for signing up to Whattowatch. You will receive a verification email shortly.
There was a problem. Please refresh the page and try again.