The Witcher books in order: how to read them start to finish
Here's how you can read The Witcher books in order so you're up to speed with Geralt's adventures.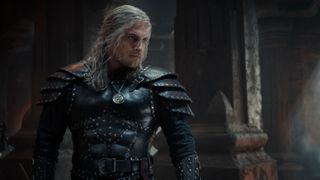 (Image credit: Netflix/Susie Allnutt)
Want to read The Witcher books in order whilst you wait for the next chapter of The Witcher to arrive?
Like many epic fantasy sagas, Netflix's Witcher franchise is based upon a series of popular novels. In this instance, the world of the Continent (and the people that inhabit it) were dreamt up by best-selling Polish author, Andrzej Sapkowski.
Sapkowski's series of fantasy novels have sold more than 15 million copies and have only grown in popularity thanks to the Netflix show and CD Projekt RED's incredibly successful video games. With more Netflix shows like The Witcher: Blood Origin and future animated projects to follow Nightmare of the Wolf, it's likely the series will only get more popular from here on out.
The books that both properties are based on started out as a series of short stories published in a Polish fantasy magazine. The first set of published stories was collected together in 1992, but English translations didn't start to arrive until 2007; Danusia Stok translated the first two, with David French taking over for every Witcher book thereafter.
If you've decided you want to read the Witcher books in order, you might think you can just pick them up in publication order, but things are a little bit more complicated than that. If you want to follow the story chronologically, you'll need to change your approach slightly, which is exactly why we put this guide together explaining how to read the Witcher books in order.
How to read the Witcher books in order
The order you need to read the Witcher books in order to best follow the main story is:
If you're wondering why the above order doesn't follow the publication dates, allow us to give a little bit more detail about the date they were first published, here's why.
The Last Wish (opens in new tab) collects several stories together which establish the rules of what it means to be a witcher, and you'll also get a sense of Geralt's personality and read about what he gets up to whilst working and in his spare time.
Sword of Destiny (opens in new tab) might have been published later, but you should read this second collection of short stories next purely because it's where we first meet princess Ciri, a character who is vital to the overarching narrative of the entire saga.
From there, if you want to experience every single Witcher story Sapkowksi has written, you should pick up Season of Storms, (opens in new tab) though you could skip this one if you're only concerned with the main series' plot if you wanted to power through the series as quickly as possible.
Whether you skip Season of Storms or not, things get easier after this third collection, as you can follow the five main novels —Blood of Elves (opens in new tab), Time of Contempt (opens in new tab), Baptism of Fire (opens in new tab), The Tower of the Swallow (opens in new tab), and The Lady of the Lake (opens in new tab)— in release order. And that's how you read the Witcher books in order.
You can purchase each Witcher book individually, but all eight books are often collected together into bundles, so you might save some money by picking the whole set up in one go. You can find eight-book bundles on Amazon US (opens in new tab) and on Amazon UK (opens in new tab).
If you'd prefer to read The Witcher books digitally, you can pick up complete ebook collections at the Amazon Kindle store (opens in new tab).
Do I need to read the Witcher graphic novels?
If you've worked your way through eight books, three games, and one of the best Netflix originals to date, and you want to spend even more time in the Witcher universe, you could check out the graphic novels for even more Witcher tales. Comic book publisher Dark Horse (opens in new tab) has published a series of comics that details even more of Geralt's exploits on the Continent.
It's worth noting that the graphic novels are less connected to the story from the Witcher books as they share a continuity with the video games. Each story arc is available for purchase as individual issues or as collected volumes that can be purchased directly from Dark Horse.
If you want to check out the writing and art style of the comics before paying a penny, there's a sampler available on the Dark Horse comics site (opens in new tab) for free.
New Witcher comics are still being produced, but the current list of stories as of our last update includes:
There are also two "Library Editions", which are deluxe hardback collections which bundle multiple series together along with some bonuses like extra art. Volume 1 (opens in new tab) collects House of Glass, Fox Children, Curse of Crows and the Killing Monters one-shot, whilst Volume 2 (opens in new tab) collects Of Flesh and Flame, Fading Memories, Witch's Lament and the 2021 Free Comic Book Day story, The Witcher: Once Upon a Time in the Woods.
The World of the Witcher (opens in new tab) is also in the wild, but this compendium serves as a companion to the video games, rather than the books. It was produced by CD Projekt RED as a guided tour of their version of the Witcher saga and it offers insights on everything from weapons to locations and plot points — that does mean you should probably steer clear if you've not read the books just yet.
How faithful is the Netflix series to the Witcher books?
Showrunner Lauren S. Hissrich said that The Witcher show would be staying true to the books, though— as with all adaptations of literary works— the show has definitely deviated from some of the things that happen in the books' canon.
To help you keep up with the latest goings-on in the series, Netflix maintains a dedicated Witcher website (opens in new tab) that compiles info about major events, characters, locations and other relevant lore from their version of the Continent.