I'm a Celebrity's Jake Quickenden: 'Kendra smells like a feral dog!'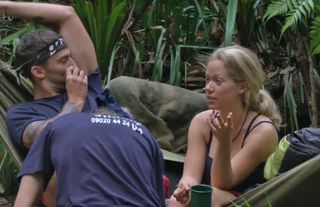 American TV star Kendra Wilkinson, 29, has caused a right stink in the I'm A Celebrity camp - and not just because she only managed to win three stars in two Bush Tucker trials.
As X Factor ex Jake Quickenden, 26, was quick to point out to Kendra, she stinks.
Jake thought he was the stinker but, after checking his own armpits and realising he was sweet, he went on a mission to sniff out the real offender - and found it was Kendra.
"Hell, Ken, that is horrendous!" he told her, after getting a whiff of her armpit.
"I know," she laughed.
"She smells like a feral dog," Jake said. "She stinks."
"I smell like a bloody, dead, fish's carcass. It's just wrong," Kendra admitted happily… Then gave Jake another whiff of her armpit.
"She's brilliant is Kendra," Jake said. "She's the kind of girl I get on with."
It looks like the kind of girl Jake would like to get on better with, though, is Irish model/singer Nadia Forde, 25.
As they woke up, Jake said to Nadia: "How do you look so fresh in the morning? You look better in the morning than you do at night."
His flattery got him nothing but a two-fingered salute from Nadia, though, who then stripped off her T-shirt and stood in her bra…
"Wow! You're not shy, are you?" Jake said to her, unable to take his eyes off her.
They'd better have a sedative ready for the lad for when she puts on a bikini…
Nadia may be resisting Jake's charms, but the other females have been openly enjoying his presence in camp…
"The ladies have been undressing Jake with their eyes," said presenter Ant.
"Well, it doesn't take long… He's already done the top half for them!" Dec replied.
But Jake has shown that he's not just a pretty face and buff body…
Still undercover in the CIA (Celebrity Intelligence Agency) with former politician Edwina Currie, 68, and ex-footballer Jimmy Bullard, 36, it was Jake who cunningly chose Kendra when they were tasked with recruiting a fourth agent.
"If we choose Kendra, she's exempt from Bush Tucker trials," Jake explained to his fellow agents. "Which means someone else will have to do them and we're more likely to win some food."
And so it's Melanie Sykes, 44, who faces the next trial in I'm A Celebrity…Get Me Out Of Here! on ITV, Sunday, November 23, 9.00pm.
Get the What to Watch Newsletter
The latest updates, reviews and unmissable series to watch and more!