62nd London Film Festival | The Favourite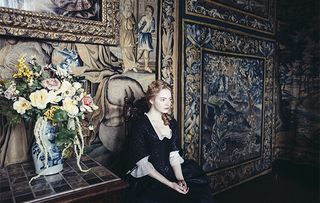 (Image credit: Fox Searchlight Pictures)
Wielding blade-sharp words rather than daggers, Emma Stone and Rachel Weisz are cutthroat rivals for the affections of Olivia Colman's needy Queen Anne in The Favourite, a scintillating comedy-drama set in early 18th-century England.
Weisz's strong-willed, shrewdly intelligent Lady Sarah Marlborough is the queen's intimate confidante and adviser; and Stone's Abigail is Sarah's impoverished but wily young cousin. When the film opens, it is Lady Sarah who has the queen's ear. Abigail, fallen on hard times, has come to court begging her cousin for a position but ends up dispatched to the kitchen to work as a scullery maid. Nothing if not resourceful, she is soon scheming her way into the queen's favour...
Don't come to The Favourite expecting a typical costume movie - even if it does display such familiar trappings of the genre as sumptuous costumes (by Oscar-nominated Sandy Powell) and equally splendid locations (notably stunning Jacobean pile Hatfield House in Hertfordshire). Director Yorgos Lanthimos made his name as the maker of the compellingly weird films Dogtooth, The Lobster and The Killing of a Sacred Deer. Here, trademark fisheye lens to the fore, he brings his singularly off-kilter vision to English history to produce a film that is eye-opening and eye-popping, and not a little subversive.
For a change, it is the women calling the shots. The men, including Nicholas Hoult's absurdly bewigged Tory leader Harley, are the ones sporting beauty spots and makeup. Making the most of a script that fizzes with wit, Weisz and Stone are on dazzling form, but it is the brilliant Colman as the insecure and sickly Anne who supplies poignancy as well as humour.
The Favourite screens tonight at Cineworld Leicester Square at 7pm and at the Embankment Garden Cinema at 7.45pm, and at the Curzon Mayfair on Sunday 21st October at 8.45pm, and goes on general release from Tuesday 1st January 2019.
Get the latest updates, reviews and unmissable series to watch and more!
Thank you for signing up to Whattowatch. You will receive a verification email shortly.
There was a problem. Please refresh the page and try again.