Journey to the Center of the Earth (1959) | Blu-ray – The thrilling Jules Verne adventure gets a cracking 4k restoration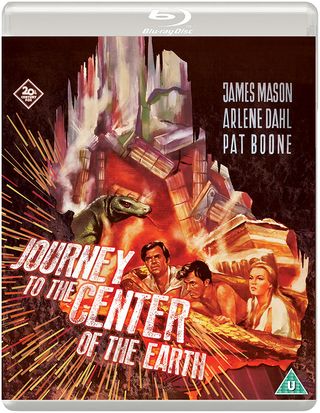 Jules Verne's classic novel, Journey to the Center of the Earth, is brought to the screen in the thrilling 1959 adventure about a band of intrepid explorers descending to the hidden reaches of our world.
Professor Lindenbrook (James Mason) discovers a long hidden message that reveals the existence of a passage into the centre of the Earth. Leading a team of unlikely adventurers (including Pat Boone, Arlene Dahl and… a duck), the groups daring expedition will see them come up against exploding volcanoes, rockslides and even flesh-eating reptiles!
Scored by the legendary Bernard Hermann and filmed in stunning Cinemascope, Journey to the Center of the Earth is a much beloved classic, and a landmark in both science-fiction and adventure filmmaking. Eureka Classics is proud to present the film for the first time on Blu-ray in the UK, from a stunning 4K restoration.
SPECIAL FEATURES
1080p presentation from a definitive 4K restoration
Optional stereo PCM soundtrack and 5.1 DTS-HD Master Audio options
Isolated music and effects track
Optional English subtitles
Audio commentary with actress Diane Baker and film historians Steven C Smith and Nick Redman
Video interview with author Kim Newman
A short clip featuring film's restoration over the years
Original theatrical trailer
Booklet featuring Bosley Crowther's 1959 New York Times review, archival images and poster gallery, and viewing notes.
Available to purchase here http://amzn.to/2tir1l6 (opens in new tab)
https://www.youtube.com/watch?v=Mytf_8pr4Aw&feature=youtu.be
Get the latest updates, reviews and unmissable series to watch and more!
Thank you for signing up to Whattowatch. You will receive a verification email shortly.
There was a problem. Please refresh the page and try again.