Katherine Kelly returns to Mr Selfridge and says: 'it's wonderful to be back for the final series'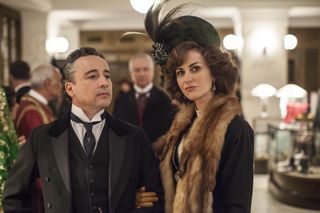 (Image credit: Patrick Redmond +353872600976)
Katherine Kelly talks to Soaplife about her latest TV roles and being a mum…
It's been a frantic festive period for former Coronation Street star Katherine Kelly (opens in new tab), who was the never-to-be-forgotten Becky McDonald. She played the Baroness in ITV's live version of The Sound of Music (opens in new tab), is back on screen in the new series of Mr Selfridge, plus it's the first year her 21 month-year-old daughter Orla has understood what Christmas is about…
How is Orla?
"She's lovely, very lively. She's talking a lot now. It's all 'No, no, no!' I brought her to work a few times at Mr Selfridge, but didn't dare let her come on the set of the shop. She'd have been into everything. It was bad enough when she was fascinated with [Mr Selfridge co-star] Jeremy Piven (opens in new tab)'s beard."
Is she a good sleeper?
"Not great. To be honest, I don't think I've had a proper night's sleep since she was born. There's always something – she's too hot, too cold, she wants a drink… It's OK, though. I get back to sleep very quickly when I've been woken up. I could sleep on a washing line. Plus, my husband, Ryan, is wonderful with Orla."
Have you seen much of your former Corrie cast mates who've also become mums over the past few years?
"We have all met up with our babies, but it's not easy as we live in London. David Neilson (opens in new tab) - who plays Roy Cropper - does, too, and he popped round to see Orla the other day."
It's almost four years since you left the Street. Does it feel that long?
"Yes it does. It feels like another life really. I'd never be so foolish as to say I'd never go back, but it's not on my radar right now."
Mr Selfridge obviously is!
"It's been wonderful being back in this fourth and last series, having not been in the third because I was pregnant with Orla. I was delighted when I was asked to play Lady Mae Loxley again."
What's new for her this time round?
"Well she's 10 years older – she doesn't look bad for 50, does she? They've aged me very subtly with a few grey highlights in my hair, and a few wrinkles. She's been in France, married again, and is recently divorced for the second time. She's just passing through London, but Harry Selfridge asks her to stay and she becomes his right-hand woman."
Is there any romance for her?
"Of course – although not with Harry. Lady Mae is instantly taken with a new guy in town, named Jimmy. He's a charmer but he's very bad news, business-wise, where Harry is concerned."
What's next for you after Mr Selfridge?
"I'm playing a plain clothes policewoman in the next series of Happy Valley. It's the first time I've ever played a member of the police force!"
Mr Selfridge returns on ITV, Friday, January 8, 9.00pm.
Thank you for signing up to Whattowatch. You will receive a verification email shortly.
There was a problem. Please refresh the page and try again.