Brad Willis returns to Ramsay Street!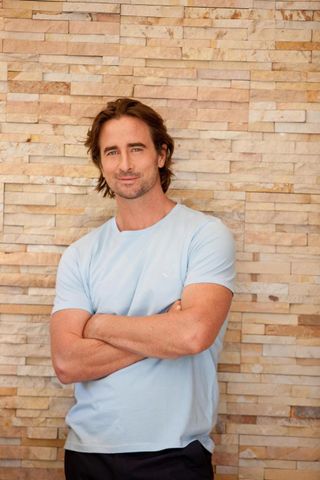 Remember Ramsay Street resident Brad Willis? The last time we saw the character, he was married to girlfriend, Beth (Natalie Imbruglia), and leaving for a new life in Perth. This month, Brad is back in the neighbourhood, with ex-Home and Away star Kip Gamblin taking over the role from Scott Michaelson...


In the early 90s, Brad Willis was an easy-going guy who sometimes ran into trouble with the ladies of Ramsay Street! What is he like in 2013?
"He has certainly mellowed.  He is a married guy now with teenage kids, he has responsibilities. However, don't let that fool you. He's just getting settled, more to come later..."
Richard Jasek, the Executive Producer of Neighbours has said that the new Willis family have a 'unique back story'. Can you give us any more hints about what this might be?
"I guess they all have their agendas. It's not as simple as just moving into a new neighbourhood, each one of them has something to prove – Terese has a high powered new job, Joshua is an elite swimmer trying to reach his goals, Imogen is trying to divert her parents' attention away from her high-achieving brother and Brad, well he is trying to just keep up at the moment."
Brad originally left Ramsay Street with sweetheart, Beth. Will long-time Neighbours fans find out what happened with that relationship?

"I'm not sure how much the producers will go into it, but I'm sure from time to time there will be nods back to Brad's past."
What is Brad's relationship like with new wife, Terese (played by Rebekah Elmaloglou)

"It's pretty strong, however she's sort of been running the family lately. Terese is the main breadwinner as Brad has moved over to coaching Joshua."
What kind of dad is Brad to Joshua and Imogen?
"With Joshua, he is very present because he is his swimming coach, probably a bit too much at times. He tries to control Joshua a bit. With Imogen, he relies on the fact she is highly intelligent and quite self-sufficient. But as all parents know, you have to be across everything when it comes to teenagers."
What brings the Willis family back to Ramsay Street?
"Work. Terese has been offered a job at Lassiter's which is too good to refuse."
Could we see any other members of the original Willis family appear over time, such as mum Pam, dad Doug and sister Gabby?

"Not that I've heard anything, but you never know on Ramsay Street. In the short time I have been here, Carla Bonner (Steph Scully) and Melissa Bell (Lucy Robinson) have returned in guest roles."
You and co-star Rebekah are both former Summer Bay residents. Have you exchanged any fun Home and Away memories?
"Well, we were on Home And Away at separate times but I was excited to hear that Bec had worked with Guy Pearce who is a big favourite actor of mine.  We've had a good laugh at some of the crew members we've worked with over the years and storylines."
Are you still in touch with any of the Hunter family or other Home and Away co-stars?

"I worked with Clarissa House who played my mother, Beth, and her husband, Ian, is a director I've worked with many times. So I've stayed in touch with them. The rest of the Hunters are doing their own thing."
What are your memories of playing paramedic Greg in Casualty and living in the UK at the time?
"I absolutely loved working on Casualty even though I was the token Aussie and played every cliché Aussie pun you can imagine. They really wanted Steve Irwin for the job! It was hilarious because even though I was ramping it up with the Aussie accent and just got louder and louder, the director would say, 'I like it but give me a bit more!' I would love to work in England again, it was a great experience."
Get the latest updates, reviews and unmissable series to watch and more!
Thank you for signing up to Whattowatch. You will receive a verification email shortly.
There was a problem. Please refresh the page and try again.