Is Aaron Brennan a killer? Star Matt Wilson previews Neighbours (VIDEO)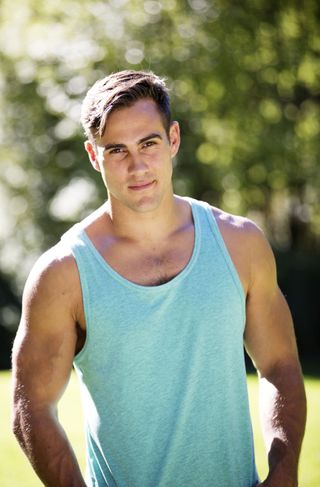 Aaron Brennan believes he's murdered Tom Quill by knocking him down before Lassiter's exploded, burying Tom in the rubble, but Neighbours' Matt Wilson reveals support for Aaron comes from an unexpected source...
His ex, Nate Kinski, has returned to Erinsborough and turned up at just the right moment.
Matt told What's on TV: "Tom Quill is not to be accounted for. The explosion's happened, he's nowhere to be seen. [Mum] Julie Quill's trying to find Tom and she's been interrogating Aaron, trying to get some info out of him. Aaron's been forced to lie and he's not the sort of person who like to lie...
"Meanwhile, Nate has said you need to keep yourself quiet, you need to not tell anyone, don't tell your brother, the police officer [Mark Brennan]. We can sort this out another way. It's a very confusing time."
Matt's shocked by Nate's reappearance, but he isn't convinced he's exactly what Aaron needs right now. "I think Nate might be trying to make up for what he's done in the past. He feels a bit guilty about disappearing. He does feel bad, which is good. But it might not be the best advice for Aaron at the moment."
Their relationship is a battlefield, according to Matt.
"Nate and Aaron, since we first started, as you know, we're complete opposites. It's quite funny - he wants this and I want this. It actually makes for good scenes because we actually bounce off each other. Whenever we do a scene together we always want the complete opposite, which makes it quite interesting. And it's much the same now ... It's always a battle, a constant battle of them trying to find common ground."
Watch the full interview with Neighbours' Matt Wilson, above."]
Get the latest updates, reviews and unmissable series to watch and more!
Thank you for signing up to Whattowatch. You will receive a verification email shortly.
There was a problem. Please refresh the page and try again.