Kylie's 'daughter' to appear in Neighbours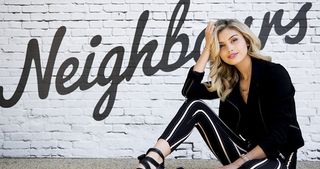 It's been 28 years since Kylie Minogue left Neighbours to pursue her pop career, but the legacy of her character Charlene lives on. Viewers have already been introduced to Charlene's son Daniel, but it's just been announced that her daughter Madison is to turn up in Erinsborough.
Sarah Ellen, an 18-year-old actress, model, singer and blogger, has been cast in the role as Madison Robinson, whose dad is Scott Robinson, who was played by Jason Donovan in the Australian soap.
And having heard the news that her character's daughter is turn up in the soap, the queen of pop was quick to have her say and send her best wishes to Sarah!
"Congratulations on your first acting job Sarah and welcome to the neighbourhood!" said Kylie in the Australia's Sunday Telegraph. "A lot has changed since I was in Neighbours, but I have no doubt the family spirit of the cast and crew remains the same. Have a great time. Oh, and Charlene says, 'Don't forget to let me know you arrived safely."
A budding journalist, Madison arrives back in Erinsborough after her parents ask her to check up on Daniel, and with her Uncle Paul on the scene, too, it's not long before she becomes embroiled in the family drama.
"I'm really excited to be joining the cast of Neighbours to play the role of Madison Robinson," said Sarah. "She's feisty and adventurous; just like her on-screen mum Charlene. It's been great fun on set so far and I can't wait to see what my [social media] audience thinks of my new role.
"Acting has always been a passion of mine, I've been creating my own characters and content for my website (perksofher.com) and You Tube channel for years, so I feel really privileged that my first major TV role is on such an iconic Australian program. It's been a great experience to learn scripts and work with the cast and crew, everyone has been super-friendly and helpful."
Get the latest updates, reviews and unmissable series to watch and more!
Thank you for signing up to Whattowatch. You will receive a verification email shortly.
There was a problem. Please refresh the page and try again.