'Sonya's trust in Toadie and her marriage is shattered,' says Neighbours' Eve Morey!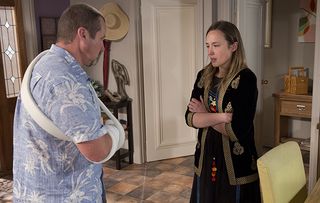 It may be the end for Sonya and Toadie in Neighbours! Eve Morey reveals all to Soaplife…
Life couldn't get much more hellish for Sonya Rebecchi at the moment. Her husband, Toadie, hot-footed it to London in pursuit of the woman he believes to be his back-from-the-dead first wife, Dee Bliss, and the girl he believes to be his daughter, Willow. Then there are problems with the baby girl Sonya's carrying for Mark Brennan, who is secretly in love with her. "I'm not saying what exactly happens with the baby, but events connected to it only heighten her feelings of frustration towards Toadie," Sonya actress Eve Morey tells Soaplife. "Although Toadie returns to Erinsborough full of remorse, Sonya can't bear to be with him. She feels he wasn't there for her when she really needed him."
Does Sonya not have any feelings left for husband Toadie? "Never say never. Her heart will always be with Toadie [Ryan Moloney]. It's just hard for her to be with him right now, considering what he did. But maybe, in a strange way, what has happened with her and Brennan's baby will make her realise that her marriage is worth saving after all. You'll have to wait and see about that."
Toadie's desperate to win her round… Is there any chance he can do that? "At this point in their relationship, it's going to be very difficult. Sonya's trust in her husband and her marriage is totally shattered, and it's hard to see what Toadie could do to make things up to her. Sonya can't forgive him, which is hardly surprising in the circumstances."
What about Brennan (Scott McGregor)? Does Sonya have feelings for him? "She likes him very much. Sonya wears her heart on her sleeve – so much so that it may look like she has feelings for him – but she certainly doesn't mean it in any sort of romantic way."
But will their shared experience with the baby cement a bond? "Sonya and Brennan are best friends and they share a newfound intimacy because of the baby they're having. However, even when she has doubts about the marriage to Toadie, it's simply not in Sonya's make-up to cheat on him. She's simply not like that."
If she and Brennan did get together, would it be a rebound thing? "If such a thing ever happened it would most definitely be a rebound thing for Sonya. Absolutely!"
What do you think Sonya should do after everything that's happened? "I think viewers want Toadie and Sonya to be together, and I certainly do!"
Neighbours, Channel 5
Thank you for signing up to Whattowatch. You will receive a verification email shortly.
There was a problem. Please refresh the page and try again.