Neighbours time travel shock! Toadie turns gangster as he hunts down Paul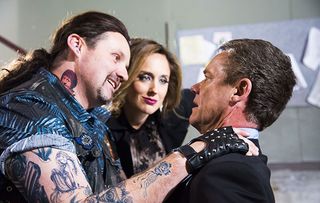 Neighbours is turned upside down as Toadie goes bad
Here's Toadie as a gangster in a new five-part Halloween webseries special of Neighbours!
Starting on October 30th, Neighbours VS Time Travel sees Paul Robinson time travel to 1985, thus altering 30 years of Neighbours history! He creates a a parallel universe where Gary's a genius, Toadie's a gangster, and worse, Karl's a successful musician.
Eve Morey and Ryan Moloney play gangster versions of their characters - Sonja and The Toadfather
As Paul tries to give his past self business tips from the future, he accidentally changes the fates of many of his neighbours with Susan now married to Phil Martin (guest star Ian Rawlings), as rock star Karl tries desperately to win her back.
Baffled Paul meets his parallel universe family
In another surprise, Paul's deranged son Rob Robinson (Adz Hunter) is a free man - but can he really be trusted? As Paul encounters his friends and family, he's stunned by their changed fortunes - his daughter Amy has unknowingly married her brother, Leo!
http://www.youtube.com/watch?v=H5FwqKFK1Ug
With the mob - fronted by the Toadfather - hot on his heels, can Paul set history straight? Neighbours VS Time Travel will be released daily on the official Neighbours YouTube channel (YouTube.com/Neighbours) and Facebook page (Facebook.com/Neighbours) from October 30th.
Neighbours airs Monday - Friday on Channel 5 at 1.45pm and 5.30pm
Get the latest updates, reviews and unmissable series to watch and more!
Thank you for signing up to Whattowatch. You will receive a verification email shortly.
There was a problem. Please refresh the page and try again.