Watch out Susan! Karl's ex-fling is back in Erinsborough!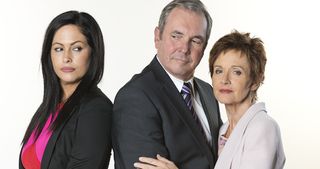 Uh-oh! Here comes trouble… Sarah Beaumont is back in town!
They've been on, they've been off… and then they've been on again, but could Ramsay Street's much-loved couple Karl and Susan Kennedy be heading for another split?
Back in 1997, Sarah was working as a receptionist at Karl's surgery when the pair developed for feelings for each other. Although Karl managed to resist temptation, while helping Sarah to become a nurse, things came to a head when he comforted her over a break-up and the pair kissed.
When Toadie found out about the kiss, he told his best-mate Billy, the Kennedy's youngest son, who then told his mum Susan. Devastated, she slapped her cheating husband across the face and ordered him to move out of their home. The couple later reunited, however, but after Susan slipped on some milk and lost her memory, she couldn't remember who Karl was so she divorced him!
After a brief return in 2013, Sarah, played by Nicola Charles, is to return to Ramsay Street once more. In the coming months, viewers will see her arrive in Erinsborough – but has she come back to rekindle things with Karl or does she have another agenda?
"They say life imitates art, but for me art is imitating life. I've had some huge and sometimes terrifying mountains to climb in my personal life during the last 10 years. Now I'm using all those experiences to help Sarah climb hers," said Nicola.
English-born Sarah joined Neighbours' as a regular cast member in 1996, and has secured her place in the soap's history as one of its most controversial characters…
"Sarah Beaumont is a wonderful character that doesn't need an introduction, viewers wait with bated breath for her next move and the latest installment will surprise everyone," said Jason Herbison, Executive Producer of Neighbours. "It's always a pleasure to welcome Nicola back to Ramsay Street,"
You can see Nicola's return in Neighbours on Channel 5 from 5 April.
Thank you for signing up to Whattowatch. You will receive a verification email shortly.
There was a problem. Please refresh the page and try again.