Toadie and Dee revisit their wedding day!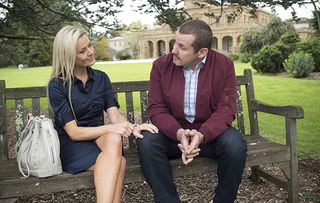 (Image credit: EMBARGO UNTIL FEB 6 2017)
Toadie takes former wife Dee to the place they got married, in 2003, before she plunged to her 'death' in a car accident that very same day in Neighbours
With Toadie fast forming a friendship with former wife Dee, the lawyer takes her to see the place they got married before she plunged to her 'death' that very same day in Neighbours.
Toadie spent 13 long years thinking he'd killed Dee in a car accident after they tied the knot in 2003, but in reality Dee survived and has spent over a decade recovering in hiding. Toadie got the shock of his life, recently, when Dee returned to Erinsborough, later introducing him to teenager Willow, the daughter Toadie had no idea even existed!
As the pair have begun to pick through their the past, it's clear Dee still has huge gaps in her memory from the amnesia she suffered as a result of her clifftop plunge, and the hope is that this return to their wedding venue, Werribee Mansion, might help.
But, as the former childhood sweethearts take a trip down memory lane back to that fateful day, will it spark fond recollections for Dee and Toadie… or something else?
Ryan Moloney, the actor who plays Toadie, told us: "Any feelings he may or may not develop for Dee, he can't show it or feel it."
Let's not forget, though Toadie is married and raising a family with Sonya, Dee was his first love…
"Dee was taken away from him really quickly," said Ryan of the emotional storyline, which has fans gripped. "They were really young and he didn't get the chance to experience life with her."
As the bond between the exes grows stronger, can Toadie and Sonya's marriage survive or are Toadie and Dee falling for each other all over again?
Dee and Toadie take a trip down memory lane.
Dee and Toadie take a trip down memory lane.
Visiting the place they got married in 2003, it's an emotional day for the pair.
Shortly after they tied the knot here, over 13 years ago, Dee was believed to have died in a clifftop plunge, while Toadie was at the wheel.
Toadie spent over a decade believing he'd killed his wife, before being blown away when Dee appeared on his doorstep in Ramsay Street.
Dee has amnesia as a result of the car accident. Though a lot of memories have returned, huge gaps remain.
As the couple reminisce, will Dee start to remember more about her former life with Toadie?
With a bond forming fast between Dee and Toadie, are the pair starting to remember why they fell in love?
Later in the week, Dee is blown away when Toadie offers her a lump sum to help her make a fresh start.
But why hasn't he consulted wife Sonya? And what will she say when she hears her husband is paying the way for Dee? Watch Neighbours on Channel 5 from Monday 13 February
Get the latest updates, reviews and unmissable series to watch and more!
Thank you for signing up to Whattowatch. You will receive a verification email shortly.
There was a problem. Please refresh the page and try again.