10 Years Ago in the Soaps including EastEnders - Week Beginning July 7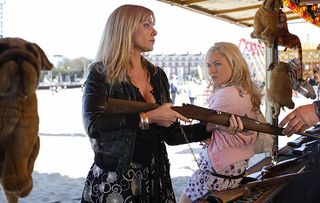 (Image credit: BBC)
10 Years Ago in the Soaps - Remind yourself of the soap drama happening in EastEnders, Coronation Street, Emmerdale and Hollyoaks 10 years ago this week!
Sean Slater tracked down Roxy Mitchell in EastEnders, Tony Gordon flirted with Rosie Webster in Coronation Street, Anna De Souza spelt trouble for Carl King in Emmerdale, and Steph Cunningham buried husband Max in Hollyoaks - 10 Years Ago in the Soaps…
10 Years Ago in the Soaps - EastEnders
Ronnie Mitchell (Samantha Womack) was desperate to track down her pregnant sister Roxy (Rita Simons), and so was Sean Slater (Rob Kazinsky), who thought he was the baby's father. It was Ronnie who found Roxy first, in Dorset staying with their dad Archie. Ronnie was horrified, there was painful history between her and Archie (Larry Lamb). Roxy wasn't pleased to see Ronnie and escaped to a small funfair. Ronnie found her but after another row, Roxy stormed off and hit the vodka. She had no idea Sean had been hot on Ronnie's heels, and he wasn't happy to see Roxy drinking!
When Phil Mitchell (Steve McFadden) agreed to help Max Branning by delivering £1,000 to his cash-strapped sister Suzy (Maggie O'Neill) at her beauty salon in Watford he had no idea of the trouble it would land him in. Suzy thought Phil had been sent by her dodgy ex and whacked him over the head with a statue. Phil came round just as the real heavies turned up, but managed to escape - with Suzy - back to The Queen Vic, where Suzy later seduced him to 'thank him' for saving her…
10 Years Ago in the Soaps - Coronation Street
Tony Gordon was a man used to getting what he wanted and he wanted Kevin Webster's garage. Kevin, though, insisted his garage wasn't for sale - at any price! Tony started fighting dirty, getting Kevin's daughter Rosie on side, suggesting she get hold of her dad's client list for him. Rosie was unsure until her dad warned her not to have an affair with Tony, after spotting Tony kiss her on the cheek. She was furious and sneaked into the garage to get the list for Tony. Lesson number one: Don't cross Rosie Webster!
Talk about tangled web! Steve McDonald (Simon Gregson) had got himself into such a mess lying about his night of passion with Becky Granger, and his mate Lloyd's efforts to get him out of it only made things worse. Steve got back from holiday to discover Lloyd (Craig Charles) had given Steve's girlfriend Michelle Connor (Kym Marsh) the idea that Steve was was planning to propose to her and that was why he had been acting strangely. Steve couldn't believe Lloyd had dropped him in it so spectacularly - but knew he had to come up with an engagement ring ASAP!
10 Years Ago in the Soaps - Emmerdale
Carl King (Tom Lister) was thrilled when Donald De Souza said he was retiring and wanted Carl to take over as MD of his company. But the sudden arrival of Donald's estranged daughter Anna (Emma Davies) threatened to put a spanner in the works. Donald had cut her out of his life when she married a money-grabber, but Anna said the marriage was over and begged her dad to let her run the company. Donald refused, but later Anna warned Carl that one mistake and he'd be out and he realised he had a battle on his hands…
Jasmine Thomas (Jenna Coleman) and Jake Doland (James Baxter) were getting increasingly flirty in each other's company and, after agreeing the best relationships started with friendship, they shared a kiss. But with typical bad timing they were spotted by Jasmine's jealous ex, Miles De Souza (Ayden Callaghan). Later Miles confronted Jasmine about the kiss, but she reminded him they were over and that was that!
10 Years Ago in the Soaps - Hollyoaks
Steph Cunningham (Carley Stenson) had only been married to Max for a matter of minutes and now here she was about to bury him. She understood when Max's little brother Tom and best mate O.B. O'Brien said they couldn't face the funeral, and was glad of her mum Frankie Osborne's (Helen Pearson) support as the hearse arrived in the village. At the church Steph bravely read the eulogy that O.B. had written, then finished the service with a song sung in a faltering but beautiful voice. There wasn't a dry eye in the house…
Baby Max was due to come home from hospital and Jacqui McQueen (Claire Cooper) was thrilled she, Tony Hutchinson (Nick Pickard) and the baby would be a proper family at last. But Max's mum Tina Reilley (Leah Hackett) had second thoughts about giving up the and told Jacqui she would be keeping him. Jacqui, though, wasn't to be beaten. She raged at Tina for her selfishness and reminded her of her affair with Russ Owen. Tina was horrified that Jacqui was trying to blackmail her… but handed the baby over!
Thank you for signing up to Whattowatch. You will receive a verification email shortly.
There was a problem. Please refresh the page and try again.