10 Years Ago This Week in the Soaps: June 3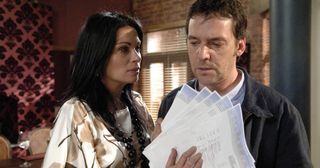 Remind yourself of all the drama that went on in the soaps - Corrie, Emmerdale, EastEnders and Hollyoaks - 10 years ago this week. So much has changed but so much is the same!
Corrie
Carla Connor (Alison King) confronted husband Paul (Sean Gallagher) about using prostitutes after rifling through his bank statements and sussing that Leanne Battersby (Jane Danson) had been working as an escort. Paul insisted he hadn't had sex with Leanne, but Carla demanded a divorce.
Paul blamed Leanne for everything, bundled her into the boot of his car and told her they were going to see her boyfriend and his brother, Liam (Rob James-Collier) and tell him she was a prostitute. He then took her on a wild drive that ended in a horrific crash…
Liam raced to the scene in time to see Paul being cut from the wreckage. Tragically he never made it through surgery and died, leaving Carla a widow.
Leanne was pulled from the boot, concussed and bruised. A bitter Carla told Liam that Leanne was a hooker and had slept with Paul, which Leanne denied. But Liam was devastated and shut Leanne out of his life…
Disaster struck when Rosemary King (Linda Thorson) got into a tussle with stepson Matthew (Matt Healy) and was sent flying over the bannister at Home Farm. It didn't look good, but somehow she survived.
Kelly Windsor (Adele Silva) knew that Jimmy King (Nick Miles) was keen for them to start a family and handed over her contraceptive pills, agreeing to leave it up to fate. But then fate went and handed her a modelling job…
Man-mad Val Lambert (Charlie Hardwick) got her claws into Andy Sugden's dad Billy Hopwood (David Crellin) and they went on the date to the cinema. Billy was more interested in Val's sister Diane, until Val spiced things up a bit…
EastEnders
Stacey Slater (Lacey Turner) - nursing abandoned baby Tomas who Dot Branning was looking after - had a heart-to-heart with Bradley Branning (Charlie Clements). He told Stacey he was sorry he had forced her to have an abortion and would turn back time if he could.
Sean Slater (Rob Kazinsky) was irresistible to women and didn't he just know it! He made a play for Carly Wicks (Kellie Shirley) but she told him she wasn't interested. Yeah, doesn't look like it!
Dot Branning (June Brown) had taken in baby Tomas after finding him abandoned on the doorstep and did her best to care for him. But in the end she knew she had to do the right thing and handed him over to social worker Natasha. It was a very sad day for Dot.
The McQueen girls were runaway brides when they went on a wedding gown shopping spree then legged it from the shop without paying. Mercedes (Jennifer Metcalfe) was wearing the neck brace because she was milking an accident at The Loft and planning to sue them. Obvs!
Craig Dean (Guy Burnet) was in bits after his girlfriend Sarah Barnes left for a modelling job in London. He turned to John paul McQueen (James Sutton) for support and they ended up in bed together… And the rest is history!
Get the What to Watch Newsletter
The latest updates, reviews and unmissable series to watch and more!