'All Creatures Great and Small' Season 2 — release date, cast, plot, trailer, and all you need to know
All Creatures Great and Small Season 2 will have six episodes and a Christmas special.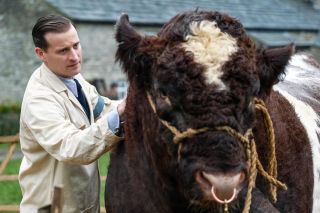 (Image credit: Matt Squire)
All Creatures Great and Small Season 2 promises to be one of the TV highlights of 2021.
The first series of All Creatures Great and Small proved to be an enormous hit. And so was the heartwarming All Creatures Great and Small 2020 Christmas special. 
Everyone wants to know if James and Helen will finally become an item. Teasing the new series, Nicholas Ralph, who plays James, says: "Well, there's been a bit of separation between James and Helen. Helen's taken herself off to just to be by herself for a bit and James has been stuck into work. 
"He ends up back in Glasgow to help a vet out there for a couple of weeks so when the series opens, we find him back in Scotland. And then he gets the offer of a permanent job back in Glasgow. 
"His mum is keen for him to take it so there's this kind of push and pull for James throughout the series. He's a lot more competent now both personally and professionally which I really like, he's kind of grown into himself."
Here's everything we know about Season 2 so far...
All Creatures Great and Small Season 2 release date
All Creatures Great and Small will start on Channel 5 on Thursday 16 September at 9pm, and it is expected to air shortly afterwards in the US on PBS Masterpiece.
There is also a Christmas special to look forward to, but we are waiting for the festive air date to be revealed. 
What is the plot of Season 2?
Three months have passed since the end of Season One. A trip back home to Glasgow presents James with a dilemma that will mean choosing between the people he loves. As Helen and James navigate their feelings for one another, Siegfried, Tristan, and Mrs Hall are also forced to consider their places in the world, while James must decide between supporting his family or following his heart. 
What will happen in episode one of Season 2? 
The official synopsis for the first episode of Season 2 says the show picks up in spring 1938, meaning three months have passed since the end of Season 1. 
James' parents are overjoyed when he's offered a position at his old mentor's forward-thinking practice in Glasgow. When he returns to the Dales, James is reminded of how much he loves the place and the people - and thinks of one person who it would be worth staying in the Dales for.
Since Helen Alderson left Hugh Hulton at the altar, she has kept a low profile and James has given her the space she needed. But the pair find themselves forced together again when neighbouring farmer Rob Benson's sheep are in trouble.
Inspired by his time at the Glasgow surgery, James pushes Siegfried to let Tristan do more veterinary jobs so that they can take on more small animal cases at Skeldale House. Elsewhere, Tristan tends to a budgerigar whilst Mrs Hall uncovers a difficult truth.
All Creatures Great and Small Season 2 cast
All the main cast returning, it's now been officially confirmed. Expect more arguments between Tristan Farnon (Callum Woodhouse) and his older brother Siegfried Farnon (Samuel West), while Mrs Hall (Anna Madeley) tries to keep the peace. Meanwhile, James (Nicholas Ralph) will be seeing how Helen (Rachel Shenton) feels after the huge events of the Christmas special.
Miranda star Patricia Hodge has joined the cast as eccentric dog owner Mrs Pumphrey - the role played in the first series by the late Diana Rigg.
Plus The Vicar of Dibley's James Fleet joins the show as Colonel Merrick, an impressive military man and local farmer. Harry Potter star Matthew Lewis is also back as Hugh.
Is there a trailer?
There is! Not only is it great to be back in the beautiful Yorkshire Dales, but we also see James return to where he belongs, and it isn't long before he is getting to grips with the local animals once again. He is also seen putting his heart on the line when he tells Helen that he missed her while he was away... could there be romance on the cards? 
What happened in the Christmas special?
The Christmas special opened on Christmas Eve when poor James was in bits as Helen prepared to get married to Hugh. However as Rachel Shenton, who plays Helen, revealed, the farmer was having doubts about her marriage.
"It's emotional because it's Christmas Eve and the night before her wedding and she's uncertain. I don't think she thought a proposal was around the corner and it blindsided her. Now, with everyone at the party asking about her plans, she's overwhelmed."
Helen and James ended up being trapped together on a remote farm as a thick fog rested over the Dales. James wrestled with telling Helen his true feelings but decided against it.
On Christmas Day James decided to head home, but upon reaching a crossroads he suddenly decided to head back. When James arrived, he found out that Helen didn't go through with the wedding.
All Creatures Great and Small returns to Channel 5 on Thursday 16th September at 9pm (see our TV guide for full listings).
Get the latest updates, reviews and unmissable series to watch and more!
Thank you for signing up to Whattowatch. You will receive a verification email shortly.
There was a problem. Please refresh the page and try again.