Amanda Mealing reveals her 7 FAVOURITE Casualty moments as Connie!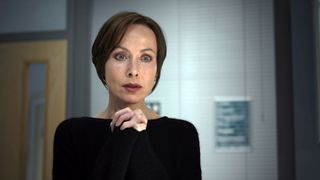 (Image credit: BBC)
Amanda Mealing talks about her 7 favourite Connie Beauchamp moments in Casualty
Connie Beauchamp recently left Holby ED. Which means Casualty favourite Amanda Mealing is taking a well earned break after months (years!) of powerful storylines.
Yet, we're not quite ready to say goodbye, so we caught up with the star to discuss the highs and lows of Connie's career at Holby ED.
Here Casualty star Amanda Mealing talks about her seven all-time favourite Connie moments so far…
Making an entrance as Connie
On Connie's first day as a Holby ED consultant in 2014 she immediately established herself by rescuing a man injured above a stage - upstaging everyone else in the process!
"That was my first day. I was hanging from the lighting rig of the Motorpoint Arena Cardiff. It was about 100 feet up, and I absolutely loved it! It reminded me of days in [Sky One military drama] Strike Back, hanging out of helicopters," recalls Amanda. "The poor stunt woman said to me 'Well, thanks very much. I've put on about two stone because I've sat here eating biscuits for days while you did all the stunts!'"
Ethical dilemma
Connie was massively conflicted with the arrival of retired surgeon Alfred Maxwell to the ED in 2015. Suffering from motor neuron disease he implored her to help him die.
As they grew closer, Connie found it harder to resist his request. When Alfred (Michael Byrne) eventually passed away she was arrested on suspicion of causing his death, until Charlie later proved her innocence…
"I think that is probably my favourite storyline. It was so brilliantly written. It's a difficult and evocative subject that's hard to put on screen sympathetically to both sides. I think it was done really, really well," says Amanda. "It was a beautiful, tender and heart-breaking story. Michael Byrne is amazing."
Charlie and Connie abroad
All in all 2015 was an action-packed year for the fearless medic. Who can forget her adventures with Mr Casualty, nurse Charlie Fairhead? The pair went to Romania to rescue Charlie's drug addict son from ruthless gangsters, ultimately cementing their friendship.
"Romania was a massive episode and amazing on screen," says Amanda, who is close to Charlie actor, Derek Thompson in real life too. "When we were filming it the conditions were absolutely freezing, but I'd love to do something like that again!"
MORE: Did Charlie kill someone in Romania? (opens in new tab)
Endless love?
When Connie fell for Jacob Masters (Charles Venn (opens in new tab)) back in 2015, the handsome and charismatic nurse managed to break down her barriers, and a softer side was revealed…
"I loved Connie's relationship with Jacob. I think they were really well suited. Seeing Connie in love was an unusual thing," smiles Amanda. "I'm trying to revive it! I think that was a really good relationship and a nice side of Connie. And it wasn't finished. There wasn't an end to it, so there's hope!"
Defying death
As part of Casualty's 30th anniversary spectacular in 2016 vengeful mum Steph Sims forced Connie and her daughter Grace off the road and into a ravine! Behind the scenes filming wasn't glamorous but it was definitely packed with camaraderie!
"The crash with the car going over the cliff; that whole episode was amazing. I spent five days face down in gravel!" laughs Amanda. "On the final day of filming I was strapped to a gurney, covered in blood and about to be put into the back of an ambulance as the scene ended. Once they shouted 'Cut' everyone started singing Happy Birthday to me and, because I was strapped to a gurney, I couldn't run away!"
Toasting new friendship in Casualty
In 2018 Connie and consultant Elle Gardner (Jaye Griffiths) exemplified friendship goals. After an eventful road trip to a presentation, they ended up sharing a hotel room and raiding the minibar…
"I loved drunk Connie!" laughs Amanda. "When Connie and Elle got drunk it was really funny and fun to do, especially Connie's impersonations of the rest of the ED team, including the time she attempted to kiss Ethan! We've never seen Connie out of control like that. It was lovely!"
More on Connie and Elle's surprising friendship (opens in new tab)
On yer bike!
It's a little known fact that Amanda is something of a petrolhead and patron of Blood Bikes in Wales (opens in new tab), a voluntary organisation that provides an out-of-hours emergency motorcycle courier service. And Amanda's delighted she managed to extend her love of motorbikes to Connie…
"I love any motorbike entrance! I love them because I love my motorbikes. I ride a BMW RNineT Racer 1200cc engine. It's a very big bike!" reveals Amanda. "I think we should have Connie come back on a motorbike!"
Writer for TV Times, What's On TV, TV & Satellite Week and What To Watch
With twenty years of experience as an entertainment journalist, Elaine writes for What's on TV, TV Times, TV & Satellite Week and (opens in new tab)www.whattowatch.com (opens in new tab) covering a variety of programs from gardening and wildlife to documentaries and drama.
As well as active involvement in the WTW family's social media accounts, she has been known to get chatty on the red carpet and wander into the odd podcast.
After a day of previewing TV, writing about TV and interviewing TV stars, Elaine likes nothing than to relax… by watching TV.
Thank you for signing up to Whattowatch. You will receive a verification email shortly.
There was a problem. Please refresh the page and try again.