10 Years Ago in the Soaps including EastEnders - Week beginning April 21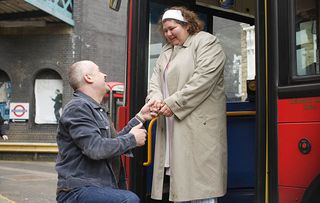 (Image credit: BBC)
10 Years Ago in the Soaps - Remind yourself of all the soap drama happening in EastEnders, Coronation Street, Emmerdale and Hollyoaks 10 years ago this week!
Minty Petersen wed Heather Trott in EastEnders, Becky Granger bedded Jason Grimshaw in Coronation Street, Gennie Walker found her dad in Emmerdale, and there was tragedy for Rhys Ashworth in Hollyoaks - 10 Years Ago in the Soaps
EastEnders - 10 Years Ago in the Soaps
It started out as a fake wedding to win a prize in a bridal magazine competition, but when Minty Petersen (Cliff Parisi) asked Heather Trott (Cheryl Fergison) to marry him for real, she couldn't wait to say 'yes.' Heather had fallen for Minty big time, but his feelings for her were more confused. Heather was on the bus ready to leave Walford when Minty rushed up, got down on one knee and popped the question. The couple tied the knot and sped off in a limo on their honeymoon. But the marriage didn't last…
Roxy Mitchell (Rita Simons) was furious with her sister Ronnie (Samantha Womack) interfering in her love life, and even more furious when Ronnie's on-off lover Jack Branning (Scott Maslen) waded in, too. Roxy stormed round to Jack's to confront him for telling Ronnie that she was sleeping with Sean Slater (Rob Kazinsky) but in the heat of the row the fury turned to passion and they kissed. It was tough to know which of them was the most shocked!
Coronation Street - 10 Years Ago in the Soaps
After a few drinks at The Rovers, Jason Grimshaw (Ryan Thomas) and Becky Granger (Katherine Kelly) went back to his place, but when Jason leaned in for a kiss, Becky said she'd better leave. Jason was disappointed, but not for long… Becky knocked on the door, said she'd wanted to be sure he was genuinely into her and not just after sex, and was the invite still on? A chuffed Jason said it definitely was!
When Leanne Battersby (Jane Danson) talked Paul Clayton (Tom Hudson) into torching her restaurant, he did it for love. But when Paul realised he'd been made a fool of, he wanted revenge. He demanded the whole insurance pay-out and when she and lover Dan Mason (Matthew Crompton) offered him only half, Paul called the police, confessed to arson - and said he could name his co-conspirators. Leanne had underestimated Paul!
Emmerdale - 10 Years Ago in the Soaps
Gennie Walker (Sian Reese-Williams) came to Emmerdale looking for her birth dad but when she found him it was a horrible shock. Paddy Kirk (Dominic Brunt) invited her to a Dingle party and when Shadrach (Andy Devine) was pointed out, Gennie realised he was her father. She shouted to Paddy across the music that Shadrach was her dad and she was gutted about it, just as Shadrach spilt his drink over the music system and the room went quiet. Shadrach heard the revelation - and sobered up!
Ross Kirk (Samuel Anderson) planted drugs in bully copper Shane Doyle's locker (Paul McEwan) to get revenge for the way he'd been treating Donna Windsor-Dingle (Verity Rushworth). But when Donna uncovered the plot she rushed to the locker to retrieve the drugs, only to be busted by Shane. He was shocked when she told him about the drugs and said she wasn't prepared to get him into trouble for something he hadn't done. And that gave Shane pause for thought…
Hollyoaks - 10 Years Ago in the Soaps
Illicit lovers Rhys Ashworth (Andrew Moss) and Beth Clement (Sinead Moynihan) escaped Hollyoaks and the police hoping to start a new life together but it ended in tragedy when their car crashed. They were rushed to hospital where Rhys's mum Suzanne (Suzanne Hall) had to break the terrible news to him that Beth had died in the smash. He was devastated…
Carmel McQueen (Gemma Merna) was thrilled when Calvin Valentine (Ricky Whittle) suggested they have a party to celebrate their engagement. But that was before he discovered that Carmel knew about his little sister Sasha taking drugs. Sasha had sworn Carmel to secrecy, but Carmel regretted keeping that secret when Sasha was rushed to hospital after taking heroin. And when Calvin found out that Carmel had known Sasha was on drugs, he blamed her for the state Sasha was in - and dumped her.
Thank you for signing up to Whattowatch. You will receive a verification email shortly.
There was a problem. Please refresh the page and try again.