10 Years Ago in the Soaps including EastEnders - Week Beginning March 24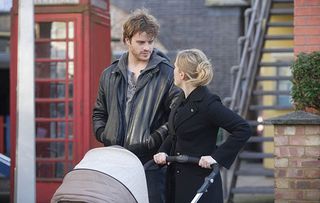 (Image credit: BBC)
10 Years Ago in the Soaps… Remind yourself of all the soap drama happening in EastEnders, Coronation Street, Emmerdale and Hollyoaks 10 years ago this week!
Sean Slater (Rob Kazinsky) was dumped in EastEnders, Leanne Battersby (Jane Danson) went flaming mad in Coronation Street, Andy Sugden (Kelvin Fletcher) turned wife-beater in Emmerdale and there was a baby bombshell for Tina Reilly (Leah Hackett) in Hollyoaks - 10 Years Ago in the Soaps
EastEnders - 10 Years Ago in the Soaps
Sean Slater (Rob Kazinsky) hoped that once he had helped Tanya Branning (Jo Joyner) bury her husband Max alive they could look to their future together. But Tanya couldn't live with what she'd done… She rescued Max from his grave and, sickened by what he had brought her to, Max agreed to leave Albert Square. Tanya then admitted she'd just been using Sean and dumped him. He was distraught but soon found a way to vent his feelings, helping evict a drug dealer from the R&R club, then beating him up. No more Mr Nice Guy!
The on-off romance between Ronnie Mitchell (Samantha Womack) and Jack Branning (Scott Maslen) was off at this point and the atmosphere between the two decidedly frosty… until Ronnie dropped a crate on her ankle at R&R and cut herself. Jack came to her rescue… he used his tie to bandage her leg and then started teasing her, telling her silly stories to make her laugh. And, despite her best intentions, he managed to get a smile out of her… Romance back on?
Coronation Street - 10 Years Ago in the Soaps
Business was bad at Leanne Battersby's restaurant Valandro's and she wanted out. But she was taken aback when boyfriend Dan Mason (Matthew Crompton) casually suggested she burn the place down and claim the insurance money, as a friend of his had done. Once the idea was planted in her head, Leanne struck a match and set fire to the tablecloth, proving to herself how easily accidents can happen. And she was soon hatching a plan to stitch up a mug to do the dirty deed for her…
Tina McIntyre (Michelle Keegan) soon regretted giving boyfriend David Platt (Jack P Shepherd) an alibi – letting him off the hook for pushing his mum Gail down the stairs – especially when it meant lying to the police. She was also unhappy about lying to Gail's mum Audrey Roberts (Sue Nicholls) who wasn't easily fobbed off. Audrey knew what a nasty piece of work David could be and was pressuring Tina to get to the truth. Tina hated the lies and didn't know much longer she could keep them up…
Emmerdale - 10 Years Ago in the Soaps
Being in prison had done nothing to improve Andy Sugden's temper and when he found out new wife Jo (Roxanne Pallett) was letting Debbie Dingle see their daughter Sarah behind his back he totally lost it, lashing out and knocking her to the ground. Horrified, Jo locked herself in the bedroom and packed her bags while mortified Andy begged her not to leave. Eventually Jo softened, and the pair decided to pretend it had never happened… except Jo was sporting the bruises to prove it had!
Everything was unravelling for Perdy Hyde-Sinclair (Georgia Slowe). She was furious when she found out her estranged husband Gray and surrogate mum Katie Sugden had been for a baby scan behind her back and discovering her friend Paul Lambert had slept with Gray was the final straw. She lunged at Gray, kicking and scratching, and when she refused to calm down she was arrested and taken off to the police station. After a night in the cells, Perdy decided she needed to get away from the village for a while. Good plan…
Hollyoaks - 10 Years Ago in the Soaps
Surrogate babies were also high on the agenda over in Hollyoaks 10 years ago this week. Tina Reilly (Leah Hackett) was believed to be carrying a baby for Jacqui McQueen (Claire Cooper) and her boyfriend Tony Hutchinson. The sisters were delighted at the first scan when they were assured the baby was healthy and all was fine. But then came news that shattered their happiness - the size of the baby revealed it couldn't be Tony's and Tina realised the dad was Russ Owen (Stuart manning) who she'd had a fling with. Jacqui begged Tina to keep the revelation to herself… but could she?
Kris Fisher (Gerard McCarthy) was understandably sceptical when Catholic priest Father Kieron Hobbs (Jake Hendricks) insisted he could provide non-judgemental advice on sexual issues for his radio phone-in show. But Kieron proved a natural. He handled the phone calls with ease, was a great hit with the punters, and had a good laugh with Kris. Kris was forced to reassess his opinion and saw the priest in a whole new light…
Get the latest updates, reviews and unmissable series to watch and more!
Thank you for signing up to Whattowatch. You will receive a verification email shortly.
There was a problem. Please refresh the page and try again.