10 Years Ago in the Soaps including Coronation Street - Week Beginning April 14th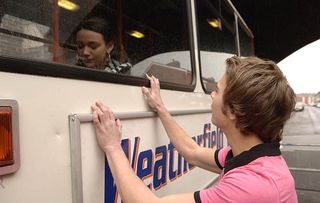 10 Years Ago in the Soaps - Remind yourself of all the soap drama that was happening in EastEnders, Coronation Street, Emmerdale and Hollyoaks 10 years ago this week!
David Platt was jailed in Coronation Street, Stacey Branning went to bed with Steve Beale in EastEnders, Laurel Thomas had a baby shock in Emmerdale, and Rhys Ashworth and Beth Clement were arrested in Hollyoaks - 10 Years Ago in the Soaps
Coronation Street - 10 Years Ago in the Soaps
David Platt (Jack P Shepherd) had a lot of apologising to do before he faced court for sentencing after attacking his mum Gail (Helen Worth) and trashing the Street. He had a special 'sorry' for girlfriend Tina McIntyre (Michelle Keegan) but she told him she needed a break and wouldn't be visiting him in prison. Then she got on a bus, left Weatherfield, and David heartbroken on his last night of freedom. Next day was Gail's 50th birthday but there were no celebrations as David was sentenced to do time in a young offenders' institute. Would he cope with life inside?
Becky Granger (Katherine Kelly) had a habit of picking wrong 'uns and the trend continued with her latest fling, builder Rick (Phil Corbitt). Jason Grimshaw (Ryan Thomas) overheard Rick talking about his girlfriend and daughter and wasted no time telling Becky that Rick was virtually married with a kid. So when Rick turned up at the café, Becky was ready for him, chucking a cup of tea over his head and ramming a cream cake in his face. Served him right!
EastEnders - 10 Years Ago in the Soaps
Steven Beale (Aaron Sidwell) was frustrated. He wanted to take things to the next level with Stacey Branning (Lacey Turner) but his experience - or lack of it - was seriously hampering his progress. He swotted up on sex - even buying a manual - but when they did eventually manage to go to bed together, it just didn't happen. Now Stacey was frustrated and Stephen embarrassed and feeling sorry for himself… what went wrong?
Dawn Swann (Kara Tointon) had ambitions and winning the Barmaid of the Year title was top of the list. But first she had to beat the other Queen Vic barmaids to get through to the competition final. She looked gorgeous in her new dress and happily modelled for the local photographer in the Square gardens. But the smile was wiped off her face when Wellard slipped out of Sean Slater's control and wiped his muddy paws all over Dawn's frock. The dress was ruined and so were Dawn's chances when Sean had a word in the judge's ear… and Roxy Mitchell, his latest squeeze, was declared the winner!
Emmerdale - 10 Years Ago in the Soaps
Laurel and Ashley Thomas (Charlotte Bellamy and John Middleton) were grieving for their son Daniel when events took a shocking turn… Blood tests revealed that Laurel couldn't have been Daniel's mum and suspicions grew that the baby had been swapped at birth with a little boy called Arthur. Once the doubts had been raised Ashley and Laurel had to undergo more blood tests to discover the truth. Laurel was adamant that, even if there had been a mix-up, she had no interest in taking another couple's child. Ashley wasn't so sure…
Long before her famous TV role as Queen Victoria, Jenna Coleman got her acting break as Ashley Thomas's niece Jasmine in Emmerdale. Debbie Dingle knew Miles De Souza (Ayden Callaghan) had feelings for Jasmine and played matchmaker by flirting with Miles to make Jasmine jealous. Miles got sick of the plan and came clean to Jasmine, who admitted she had feelings for Miles, too, and the pair kissed. They started dating - but it didn't last.
Hollyoaks - 10 Years Ago in the Soaps
Beth Clement (Sinead Moynihan) tried to love Gilly Roach and Rhys Ashworth (Andrew Moss) tried to fancy Mercedes McQueen… but they really just loved each other, never mind that they were half-brother and sister. But Michaela McQueen discovered their secret affair, told Gilly - and it was a secret no more. Gossip spread through the village, but it was Gilly who turned them in to the police and the illicit couple were arrested…
Amy Barnes (Ashley Slanina-Davies) and her abusive boyfriend Ste Hay (Kieron Richardson) had been pretending Amy's daughter Leah had leukaemia to scam money out of the kind-hearted local community. But seeing how distraught her dad, Mike (Tony Hirst), was when he believed Leah's condition had worsened, Amy realised the game was up and confessed that Leah didn't have leukaemia, and never had done. Mike was stunned - and furious!
Thank you for signing up to Whattowatch. You will receive a verification email shortly.
There was a problem. Please refresh the page and try again.