10 Years Ago in the Soaps including Coronation Street - Week beginning June 9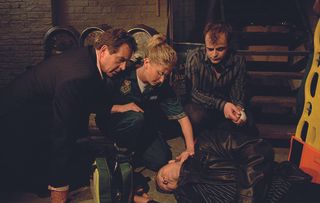 10 Years Ago in the Soaps - Remind yourself of all the soap drama in Coronation Street, EastEnders, Emmerdale and Hollyoaks 10 years ago this week!
Steve McDonald was arrested in Coronation Street, Mad May was plotting in EastEnders, Andy Sugden flew into another rage in Emmerdale, and Ravi Roy got lucky in Hollyoaks - 10 years ago in the soaps…
Coronation Street - 10 Years Ago in the Soaps
It started off as a stupid prank after a fight between Steve McDonald (Simon Gregson) and Dan Mason (Matthew Crompton), but Steve lived to regret locking Dan in the pub's pitch black cellar overnight. When Steve went to let Dan out the next morning, it was clear he was in a bad way. Dan was rushed to hospital and had an emergency op for a ruptured spleen then, when he came round, he told the police that Steve had known he was injured when he locked him in. So Steve was arrested and warned he faced a GBH charge…
Michelle Connor was less than sympathetic about Steve's plight so after a row with her, he went on a bender and bumped into Becky Granger (Katherine Kelly) who was also down in the dumps. Next thing they were sharing a kiss - and more - in the flat above Roy Cropper's cafe. Next morning, Steve couldn't find his shirt - Roy (David Nielson) had put it in the wash. Embarrassing or what?
EastEnders - 10 Years Ago in the Soaps
Dawn Swann (Kara Tointon) was so excited to be engaged to Jase Dyer (Stephen Lord) she was blissfully unaware deranged doctor May Wright (Amanda Drew) was back in Walford. May was posing as Jenny, who unwitting Jase was working for, and desperate to see Summer, the result of Dawn's affair with May's ex-husband. May showed up at the house when Dawn was out and Jase let her hold Summer while he fetched her milk. But when May saw the state of their kitchen, she decided Dawn and Jase weren't suitable parents for the little girl…
Denise Fox (Diane Parish) returned from her travels to find her family in a sorry mess. Not only was her daughter Chelsea (Tiana Benjamin) in a terrible state, her ex-crack addict dad Lucas Johnson was with her. Denise was horrified when Lucas told her that Chelsea had been high on cocaine. Chelsea assured her mum she was off the drugs, but when Denise found a wrap of coke hidden in a game of dominoes she was furious and gave Chelsea a vicious slap.
Emmerdale - 10 Years Ago in the Soaps
Andy Sugden (Kelvin Fletcher) let his nasty temper get the better of him again on daughter Sarah's birthday. It was bad enough when Sarah wanted to call the doll he gave her Debbie, after her mum Debbie Dingle. But when Debbie herself arrived with the doll's house Sarah had wanted - but he couldn't afford – Andy later snapped and kicked the beautiful doll's house, smashing it to pieces.
It seemed like such a brilliant idea. Nicola De Souza (Nicola Wheeler) realised there was a gap in the market for an exclusive dog sitting service and persuaded Sharon Lambert's flash mate Colette to leave her tiny designer dog Beau in her care while they swanned off to Marbella. But though Beau was small, he soon made a grand job of wrecking her dad Rodney Blackstock's (Patrick Mower) lounge…
Hollyoaks - 10 Years Ago in the Soaps
Mercedes McQueen (Jennifer Metcalfe) wanted a job at The Loft and her interesting interview technique, conducted at Warren Fox's flat, impressed prospective boss Ravi Roy (Stephen Uppal). He soon found himself embroiled in a hands-on situation, but the two managed to get dressed in the nick of time, just as Warren turned up…
When Mike Barnes (Tony Hirst) started an affair with daughter Sarah's mate Zoe Carpenter (Zoe Lister), getting her pregnant wasn't part of the plan. So he was horrified when Zoe told him he might be about to become a father again, and didn't hide his feelings too well. Mike later regretted the way he'd reacted and apologised. And Zoe forgave him.
Get the latest updates, reviews and unmissable series to watch and more!
Thank you for signing up to Whattowatch. You will receive a verification email shortly.
There was a problem. Please refresh the page and try again.