10 Years Ago This Week in the Soaps: January 28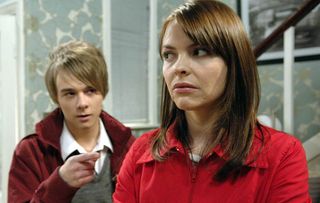 Remind yourself of all the soap drama that was happening in Corrie, EastEnders, Emmerdale and Hollyoaks 10 years ago this week. How time flies!
Corrie
'Toxic' Tracy Barlow did her evil best to manipulate murder witness David Platt. Her plan: to ensure David told the police she killed builder Charlie Stubbs in self-defence.
Tracy, though, hadn't counted on David's own devilish streak... and he confronted her and told her that he thought she killed Charlie on purpose. Then he started telling other people, too. Oops...
Elsewhere, Becky Granger and her one-time fella, Slug, got drunk and stole Roy's beloved car, Woody.
EastEnders
Despite her dad, Kevin Wicks, dropping a huge family bombshell, Carly Wicks showed Shirley Carter that she was more than a chip off the old battleaxe block. On hearing her mouthy mum gobbing off against her dad, Carly let her fists do the talking in a packed Queen Vic to put her mum in her place. Who could blame her!
Dean Wicks, meanwhile, was exhibiting his crazy and dangerous streak by pouring petrol all over the car lot office and threatening to torch it. Fortunately for all buyers of shoddy second-hand motors in Walford, Kevin talked his son down.
The on-off love triangle between Rob Minter, his wife, May Wright, and dippy Dawn Swann continued. Dawn, never one to miss an opportunity for some illicit action, wasted no time in getting jiggy with Rob the minute his wife left the house! Then she unexpectedly came back and it was panic stations. Classy...
Disaster struck in Emmerdale when jailbird Billy Hopwood gave Victoria Sugden a lift home in his truck... and he realised the brakes weren't working. The van crashed through a nearby wood and plunged into a lake. Fortunately, both people were saved.
Billy was not in the good books elsewhere in the village, too, when Andy Sugden found out his glamorous on-off girlfriend, Jo Stiles, spent the night with Billy. Usually lovable Andy, who was having temper issues at the time, made it clear to Jo that he wouldn't be messed about.
Hunky Calvin Valentine was doing his best to up the passion stakes with his girlfriend, Louise Summers. Their tryst, however, was rudely interrupted when his siblings, Sonny and Sasha, arrived home from school.
Calculating Clare Devine, meanwhile, continued to manipulate Max. His best pal, OB, sprang to his defence and tried to keep her and her evil ways as far away as possible!
Get the latest updates, reviews and unmissable series to watch and more!
Thank you for signing up to Whattowatch. You will receive a verification email shortly.
There was a problem. Please refresh the page and try again.