10 Years Ago in the Soaps including Coronation Street: Week beginning May 12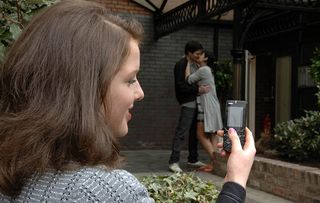 10 Years Ago in the Soaps: Remind yourself of all the soap drama happening in Coronation Street, EastEnders, Emmerdale and Hollyoaks 10 years ago this week!
10 Years Ago in the Soaps - Rosie Webster snapped Carla Connor and Liam Connor kissing in Coronation Street, Roxy Mitchell discovered she was pregnant in EastEnders, Viv Hope attacked the wrong man in Emmerdale, and Steph Dean and Niall Rafferty were getting steamy in Hollyoaks…
10 Years Ago in the Soaps - Coronation Street
With his marriage in turmoil, it wasn't long before Liam Connor (Rob James Collier) was back in Carla Connor's arms - and bed. In the cold light of day he regretted his night of passion but not enough to resist kissing Carla (Alison King) on her doorstep - a kiss caught on camera by ace troublemaker Rosie Webster (Helen Flanagan)! When his wife Maria asked him to give their marriage another go, Liam agreed - a decision which got him a slap from Carla. Meanwhile, Rosie had that ticking time-bomb photo on her phone…
Gail Platt (Helen Worth) wasn't happy when Tina McIntyre (Michelle Keegan) landed on her doorstep, saying her parents had kicked her out because she was seeing a jailbird. And Gail couldn't resist interfering when Tina refused to call her mum, making the call herself. Next thing, an irate Ann McIntyre turned up on the doorstep shouting she wouldn't have her daughter associating with criminals like David. A slanging match followed but when Ann slapped Tina, Gail stepped in again. Shame she didn't mind her own business in the first place!
10 Years Ago in the Soaps - EastEnders
When Roxy Mitchell (Rita Simons) fainted, the idea she could be pregnant was put into her head and sister Ronnie (Samantha Womack) insisted she did a test. When Roxy reappeared from the bathroom, she announced 'negative, so you can all stop knitting bootees.' But she was telling a big porky… the test was positive. Roxy turned to her mate Christian Clarke for help, and admitted that either Jack Branning or Sean Slater could be the dad…
Ricky Butcher (Sid Owen) was delighted to be reunited with ex-wife Bianca (Patsy Palmer), even if it was only because they'd been called into school for a meeting with Liam's teacher. Ricky made Bianca promise to control her fiery temper, but when the teacher told them 'Liam is struggling in every subject,' Ricky was the one who saw red and lost his rag! Oh Rickaaaay…
10 Years Ago in the Soaps - Emmerdale
Viv Windsor (Deena Payne) was desperate to find Freddie, the man who had framed her for defrauding the charity she'd been raising money for. And when she saw him in the street she chased after him and attacked him with her handbag. But it was a case of mistaken identity and she'd hit the wrong man. Oops! So husband Bob (Anthony Audenshaw) had to sweet talk the stranger to stop him going to the police to report her for assault to add to her woes!
The stress of losing her baby Daniel, then finding out he might not have been her son after all, was too much for Laurel Thomas (Charlotte Bellamy). Her husband Ashley (John Middleton) insisted on fighting for Arthur, firmly believing that he and Daniel had been swapped at birth, while Laurel thought Arthur should stay with the couple who had been bringing him up. So she packed her bags and said she was leaving – Daniel was the only child she could love.
10 Years Ago in the Soaps - Hollyoaks
Max Cunningham (Matt Littler) and Steph Dean's relationship hit rock bottom so devious Niall Rafferty (Barry Sloane) grabbed his opportunity to step in, shower Steph (Carley Stenson) with compliments, and lure her onto the sofa at his flat. But just as things were getting steamy, John Paul McQueen (James Sutton) and Father Kieron Hobbs (Jake Hendriks) emerged from the bedroom wearing next to nothing - they had obviously had the same idea! Embarrassing or what?
Jake Dean (Kevin Sacre) was in a bad way, incarcerated in a mental hospital, and things were about to get worse. Warren Fox was desperate to get Louise Kennedy out of prison where she was accused of killing her husband Sean, Darren Osborne (Ashley Taylor Dawson) was desperate for money, and Justin Burton was desperate not to go to prison for helping Warren to bury Sean's body… And somehow, between them, they managed to persuade Jake to confess to Sean's murder. He faced a lifetime in hospital anyway…
Get the What to Watch Newsletter
The latest updates, reviews and unmissable series to watch and more!