10 Years Ago on New Year's Eve in the Soaps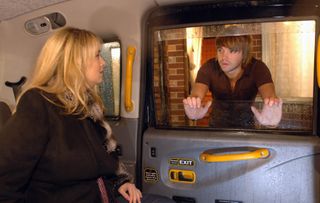 Remind yourself of all the soaps drama that was happening in Corrie, EastEnders, Emmerdale and Hollyoaks 10 years ago this week. Doesn't time fly!
Jamie Baldwin was heartbroken when step-mum and former lover Frankie said they could never escape the demons of their past and, fighting back the tears, she left Weatherfield for London without him… in the back of a black cab, obviously!
Violet Wilson left the Rovers early complaining of a sore shoulder. But when she got home she collapsed, just managing to dial 999 before she hit the floor. She was rushed to hospital and went into emergency surgery, suffering an ectopic pregnancy.
Brothers Paul and Liam Connor turned up at Underworld – which Paul had just bought from Danny Baldwin – to discover that Carla Connor had hijacked the factory's best workers to run up dungarees for her baby clothes line. They weren't impressed!
Pauline Fowler was laid to rest in a lavish funeral but there was nothing peaceful about it as tensions mounted and rumours flew about how and why Pauline had died so suddenly.
Dot Branning called in the cops after Sonia Fowler's daughter Rebecca told her she had seen Sonia slap Pauline the night before she died and, later in the week, Sonia was arrested.
Carly and Deano Wicks confronted dad Kevin about his lies and asked him to confirm that Shirley was their mum. A devastated Kevin had admit it was true and protested that he had only been trying to protect them
Bob Hope found himself behind bars on suspicion of murdering Tom King after holding the Kings to blame for his daughter Dawn's death. But, as we all now know, Bob was innocent!
Jo Stiles was surprised when her mother Jackie turned up in the village and neither she nor Debbie Dingle were impressed when Jackie immediately started flirting with Scott Windsor.
After finding out that Paddy Kirk hadn't meant to propose to her after all, Toni Daggert quickly found consolation by snogging hunky David Metcalfe, leaving poor Del Dingle out in the cold and heartbroken all over again.
Hannah Ashworth blamed Sarah Barnes for John Paul McQueen's roving eye, but Sarah struggled to understand why she was taking the flak for Hannah and John Paul's break up and was hurt when Hannah had a go at her.
Rhys Ashworth was smarting over losing Gilly Roach to glamour girl Tania, so decided to set Gilly up, and sent Tania off to find Gilly, who had bumped into Suzanne Ashworth in The Dog. Unfortunately for Gilly, Tania spotted Gilly and Suzanne looking cosy and made a quick getaway.
When Mercedes McQueen turned up to move into Nancy Hayton's flat she discovered Freddie the stripper had beaten her to it. Mercy decided to make a stand and started moving in her belongings, only to be manhandled out of the flat by Freddie… Way to go girl!
Get the latest updates, reviews and unmissable series to watch and more!
Thank you for signing up to Whattowatch. You will receive a verification email shortly.
There was a problem. Please refresh the page and try again.