10 Years Ago in the Soaps: Week Beginning October 7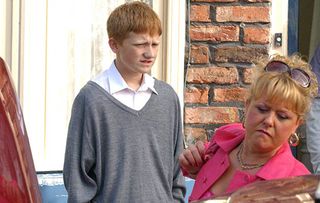 Remind yourself of all the soap drama that was happening in Corrie, Emmerdale, EastEnders and Hollyoaks 10 years ago this week!
Ten years ago this week, little Chesney was abandoned in Corrie, Jimmy jilted his bride Kelly in Emmerdale, Deano and Chelsea were jailed in EastEnders and Justin saved Katy's life in Hollyoaks, plus lots more!
Coronation Street
Awwwww! Look at little Chesney Battersby-Brown's face (top)! It's an expression fans would come to know well, as the lad faced one heartbreak after another. But this time 10 years ago the cause was his mum, Cilla (Wendi Peters). She thought she had struck it rich – literally! – when Frank Nichols died. Ailing Frank had told Cilla that if she moved in to his impressive house and looked after him 24/7 he would leave her everything in his will. Then he died and what she got was £500 and a necklace. But the jewellery turned out to be worth thousands and Cilla told 13-year-old Chesney (Sam Aston) she was going to live in Las Vegas – alone. Oh, how could she?! With few tears and a wave goodbye, as it turned out…
Lloyd Mullaney (Craig Charles) was trying to ignite the spark between himself and Jodie Morton (Samantha Seager) but they hadn't discussed role-playing, so he was surprised when she appeared dressed as a pirate. Lloyd wanted a bird on his arm, not a parrot on his shoulder! Jodie wasn't there to shiver his timbers, though. She just had to apologise for not being able to stay for their date as she had to host her little brother's birthday party while her no-good father was off enjoying himself with Eileen Grimshaw!
Emmerdale
Jimmy King's marriage to Kelly Windsor should have been one of the happiest days of their lives – but it all ended in tears. Jimmy (Nick Miles) found out that Kelly (Adele Silva) had kissed Eli Dingle. Eeeeew, right? But Jimmy forgave Kelly that when she swore it was a drunken mistake. What Jimmy couldn't forgive was the abortion she'd had, which Eli told him about. Jimmy was smiling when Kelly joined him at the altar, but only because that mean he could jilt her. By the end of this week 10 years ago, Kelly was gone.
Vet Paddy Kirk (Dominic Brunt) got a shock 10 years ago when his police officer cousin Ross Kirk (Samuel Anderson) came knocking at his door. Ross had transferred to Hotten and hoped Paddy could put him up while he got himself sorted. Nice guy Paddy said 'yes' but very quickly regretted it when ladies' man Ross made straight for fellow officer Donna Dingle – who was married to Marlon. There was lots of trouble ahead…
EastEnders
Ten years ago this week, Steven Beale (Aaron Sidwell) was still very much alive and, again, he was making his stepdad Ian Beale's life hell… Twisted Steven had taken Ian hostage and was holding him in an empty flats. When Pat Butcher told Steven that Ian (Adam Woodyatt) thought of him as his firstborn, Steven started to regret what he had done and took his stepsister Lucy to Ian who, by this time, was thin and dirty, with a beard. Lucy freaked out and ran to Ian's wife Jane for help, while Ian and Steven fought. Steven convinced Ian he was going to release him and Ian demanded to know why he had kidnapped him. Steven told him he felt rejected by Ian – a story he was still telling 10 years later.
Deano Wicks (Matt Di Angelo) and Chelsea Fox (Tiana Benjamin) were in court to be sentenced after framing Sean Slater for a violent assault and perverting the course of justice. Their barrister asked the judge to consider a non-custodial sentence. The judge wasn't having any of it, though, and they both got six months imprisonment.
Hollyoaks
A student party turned into a near-fatal affair when a dodgy boiler did its worst and the students collapsed with gas poisoning. Luckily, Justin Burton (Chris Fountain) had been hanging around, hoping to win back Katy Fox (Hannah Tointon). He raised the alarm, flung Katy over his shoulder and saved her life. How could she resist such a hero? She couldn't…
On a visit to a safari park, things got a bit wild for Max Cunningham (Matt Littler) when Steph Dean (Carley Stenson) turned up. Max thought he had missed his chance with Steph but soon saw how wrong he was…his little half-brother, Tom, saw, too! Steph had sponsored an elephant for Tom (Ellis Hollins) so Max took the little boy to a safari park. Steph turned up and they finally showed their true feelings for one another.
But Tom wasn't happy with what he saw… The seven-year-old boy had a crush on Steph!
Get the What to Watch Newsletter
The latest updates, reviews and unmissable series to watch and more!