Slipping into something comfortable: 15 British actors with flawless US accents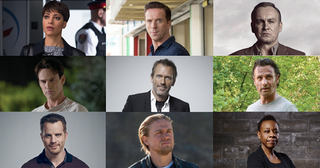 Brit actors have always crossed the pond to take on US roles, but in recent years it's become an invasion. Here are 15 Brits who've effortlessly slipped into American characters
As a new season of The Walking Dead begins on Fox UK, we started thinking about the volume of British actors are now adopting a wide variety of American accents to take on US roles... and how most of them slip into them like a comfortable Chesterfield sofa... Here are 15 of the best.
Andrew Lincoln
https://youtu.be/ydRVlKjXrOs
London-born and Somerset-raised, Andrew first came to public attention in hit BBC2 legal drama This Life in the 90s. But he's moved across the pond with ease and plays a deep southern sheriff, Rick Grimes, with aplomb in Fox series The Walking Dead (returns Monday, October 24).
Philip Glenister
https://youtu.be/YJwcefsAl28
Philip was born in Harrow, Middlesex, and brought up in Hatch End, north west London, but hellfire and brimstone, he makes a great reverend in Outcast.
Lennie James
https://youtu.be/vAYiCGF99SI
Versatile former Line of Duty star Lennie is another London lad, but you can also enjoy his impeccable American accent alongside Andrew Lincoln in The Walking Dead, as he plays Morgan Jones, a stick-wielding Zombie killer.
Cush Jumbo
https://youtu.be/LtqBdOjASh0
South Londoner Cush has previously co-starred in two series of ITV's Vera, but listen to her as Lucca Quinn in Channel 4's US political drama The Good Wife and it's hard to imagine her as anything other than a sophisticated American. Cush is set to return in the spin-off show currently in the works.
https://youtu.be/pjoYn-0LfMg
Stars of Mamma Mia! and The History Boys, Dominic Cooper turned violent, vengeful clergyman Jess Custer in AMC series Preacher, based on a comic book character. But can he do a midwestern accent while righting wrongs and dispensing justice? Judge for yourselves. Stream it now on Amazon Video.
Stephen Moyer
https://youtu.be/dOOUrmWS27k
With his Southern drawl as vampire Bill Compton in True Blood, you'd never believe Stephen was actually an Essex boy born and bred. He's recently been on our screens in the History channel's The Bastard Executioner, which was filmed in Wales, while he'll also star in series two of ITV's Safe House.
Marianne Jean-Baptiste
https://youtu.be/6xvEfwEfQgg
Marianne has recently been playing FBI Assistant Deputy Director Bethany Mayfair in Sky Living's Blindspot, but you may also remember her from series two of Broadchurch, where she played QC Sharon Bishop. The Oscar-nominated actress relocated to Los Angeles and has also starred in crime drama Without A Trace.
Stephen Graham
https://youtu.be/swz1QpRFhBs
This Is England star Stephen is a well-known Lancashire lad, who's menacing demeanour and intense presence has lad to some fantastic roles in the likes of Johnny Depp movie Public Enemies and Pirates of the Caribbean. If anyone could play the infamous Brooklyn mobster Al Capone in Boardwalk Empire, it was Stephen.
Matthew Rhys
https://youtu.be/0U6ZS2NAShI?t=20s
Born in Cardiff, south Wales, Matthew is one of the lead characters in the ITV Cold War drama The Americans, playing Philip Jennings, which is not his only US role – he played Kevin Walker in Brothers & Sisters for five series.
Charlie Hunnam
https://youtu.be/uxV1R-LwHhk
Geordie actor Charlie pulled out of the lead role in 50 Shades of Grey, but before that came his breakthrough role as Nathan Maloney in Channel 4's Queer as Folk. These days he's best known as California Redwood Originals Motorcycle Club member Jackson 'Jax' Teller in gang drama Sons of Anarchy.
Damian Lewis
https://youtu.be/E765zGG4GLQ
Public school-educated, but Damian has had a few American speaking roles recently, playing Bobby Axelrod in Sky Atlantic's Billions and Nicholas Brody in Channel 4's Homeland. He's actually from the mean streets of St John's Wood, London.
Michelle Dockery
https://youtu.be/46eiLzbKWhw
Michelle is best know for her role as Lady Mary Crawley in Downton Abbey, but the Essex born actress will soon be starring in US thriller Good Behavior as drug-taking con artist Letty Dobesh, being aired on TNT, where she uses a variety of American accents.
Hugh Laurie
https://youtu.be/nvwR74XpKUM
Hugh's probably the most well known on this list for playing an American role. Born in Oxford, he played the title role of Dr Gregory House in House, but has also been perfecting the American accent in Veep.
Rob Kazinsky
https://youtu.be/HAX8C_EcolM?t=48s
Rob was born in Hayward Heath, Sussex and brought up in Brighton. We would know him best as Sean Slater in Eastenders, but has recently made a name for himself in the US of A, with a part in True Blood and now a lead role in the Fox show Second Chance. His US accent doesn't come naturally to him, though...
Martin Freeman
https://youtu.be/6uQFe4oMzbY
Born in the Shires, as in Hampshire, Martin has become one of Britain's most in-demand actors, staring in Sherlock, and playing Bilbo in The Hobbit movies. He slipped into a mid-western accent with aplomb and was Emmy and Golden Globe-nominated when he played Lester Nygaard in the first series of Fargo on Channel 4.
Get the latest updates, reviews and unmissable series to watch and more!
Thank you for signing up to Whattowatch. You will receive a verification email shortly.
There was a problem. Please refresh the page and try again.