Box Set Binge: The Get Down, UnREAL and Bad Education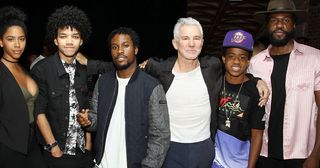 (Image credit: Lewis/Starpix/REX/Shutterstock)
Stuck for something to watch this weekend? Sit back and enjoy streaming stand-outs The Get Down (Netflix), UnREAL (Amazon Video) and Bad Education (BBC iPlayer)
Have a peek at these top shows available on streaming services Netflix, Amazon Video and BBC iPlayer...
Baz Luhrmann, director of Romeo + Juliet, Moulin Rouge! and The Great Gatsby, makes his first foray into small-screen drama with Netflix series The Get Down. The first six episodes are on the streaming service now, with a further six episodes set to be made available next year.
https://www.youtube.com/watch?v=usv442G6H8A
Opening with a feature-length episode, the music-driven drama focuses on a group of South Bronx youngsters in the late 1970s and charts the birth of hip-hop during the last days of disco.
Central character Ezekiel 'Zeke' Figuero (Justice Smith) is an orphaned teen living with his aunt and her boyfriend. Zeke is a talented but tormented poet whose wit and smart way with words marks him out on the bourgeoning rap scene. His love interest is Mylene (Herizen F. Guardiola), an aspiring singer who dreams of landing a record deal and escaping their ghetto neighbourhood - but she faces the wrath of her strict pastor father for singing 'dirty' disco songs.
Zeke and Mylene's bid to make their mark on the world is set against the backdrop of the realities of life on the South Bronx streets for an assortment of characters, including graffiti artist Dizzee (Jaden Smith) and charismatic thrill-seeker Shaolin Fantastic (Shameik Moore).
Luhrman looks at the how hip-hop and rap was born and how it gave voice to New York's disaffected youth and intersperses the drama with archival footage from the grim, violent landscape of 1970s New York. What does the future hold for this rag-tag crew of charming teens?
Do you love Love Island? Have you been known to binge on The Bachelor? US drama series UnREAL may just shatter your illusions about reality dating shows…
https://www.youtube.com/watch?v=61rjB6WFiNE
UnREAL follows the crew of a fictitious dating show, Everlasting. Behind the scenes, demanding series boss Quinn King (Constance Zimmer) is desperate to boost Everlasting's ratings and rehires Rachel Goldberg (Shiri Appleby) - a former producer on the show who had an epic meltdown on the previous season.
Rachel knows what it takes to create drama on the dating show, but she's conflicted about how she has to manipulate and lie to the contestants to steer their relationships in particular ways. At one point, Quinn offers a reward to whichever producer can create a 'villain' out of the show's contestants. If Rachel wants to rebuild her reputation, she may have to go all out to generate the sort of salacious content and dramatic moments that keep the ratings high.
Bulimic attorney Anna, swimsuit model Grace and teacher Pepper are among the contestants hoping to win over the show's 'suitor', rich British playboy Adam Cromwell (Freddie Stroma). What will Rachel do if the contestants and Adam become savvy to the producers' manipulations?
Catch the first two series of UnREAL on Amazon Video now.
It's back to school for comic Jack Whitehall as the entire third series of his sitcom, Bad Education, is available now on BBC iPlayer...
https://www.youtube.com/watch?v=Vrgg8a1AbxU
It's the summer term at Abbey Grove School and inept history teacher Alfie Wickers (Whitehall) turns his maverick methods to getting his class through their exams. He's thrown, however, by the discovery that his father Martin (Harry Enfield) has been appointed as the new deputy head – and his first priority is to fix the finances after headteacher Fraser (Mathew Horne) recklessly invested the school's money in his own clothing range, Dolce and GaBanter.
There's yet more love trauma for Alfie, too, as girlfriend Miss Gulliver (Sarah Solemani) leads the teachers on a strike and her ex-boyfriend Richard (James Fleet) looks set to square up to the hapless history teacher at the school's sports day. Will Alfie cross the finish line with his dignity intact?
Get the What to Watch Newsletter
The latest updates, reviews and unmissable series to watch and more!