TV's Worst Cookery Disasters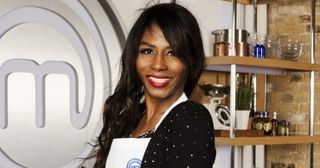 (Image credit: BBC/Shine TV/Cody Burridge)
We take a look at the worst cookery mishaps and most volatile scenes from the likes of The Great British Bake Off and Celebrity Masterchef
We all love seeing talented chefs knock up some wonderful concoctions, but it's even more entertaining watching total cookery carnage. As the competition draws to a close in Celebrity MasterChef, here are our favourite small screen foodie foul-ups...
1) Sinitta (Celebrity MasterChef 2016)
The singer's offerings of raw mince, raw aubergine and then raw pastry and some more raw mince proved too much for 'macho' judges John and Gregg. Poor Sinitta!
https://youtu.be/oM9eIx8cI0A
2) John Whaite (Bake Off 2012)
The chirpy young baker managed to put salt instead of sugar in his rum baba and later badly cut his hand, but still managed to win the title.
3) Pete Waterman (Celebrity MasterChef 2009)
The music mogul cooked the two ingredients he knew, duck and mashed potato, for a two-course challenge, but craftily suggested they were meant to be eaten separately.
4) Dame Edna Everage (Great Comic Relief Bake Off 2015)
There was plenty of Comic Relief when the Aussie legend's cookie got stuck in its tin and her pastry refused to leave the rolling pin.
https://youtu.be/ILCbvu9nfBo
5) Tessa Sanderson (Celebrity MasterChef 2010)
The Olympics champion never got past the heats after serving up raw chicken and forgetting to put egg white in her tempura.
6) Iain Watters (Bake Off 2014)
https://youtu.be/jkLmX614wo8
The previously mild-mannered baker memorably sparked 'Bingate' when, despite Sue Perkins' protest, he threw his Baked Alaska in the bin after it was left out of the freezer and turned to mush.
7) Jonathan Ross (Great Comic Relief Bake Off 2015)
Self proclaimed 'jazz baker' Jonathan got everyone on their feet when grilling a cake and then furiously attempted to pipe crème pat into his somewhat soggy profiteroles.
https://youtu.be/2ozfOO0WDS8
8) Dorret Conway (Bake Off 2015)
The ill-fated baker found it impossible to hold herself or her black forest gateau together as it collapsed on its stand.
9) Chris Moyles (Great Comic Relief Bake Off)
The DJ got in a spin when his chocolate tray-bake broke as he tried to turn it over and then followed that with inedible salty crumpets.
https://youtu.be/MTEhtGZhhu8
10) Mark Moraghan (Celebrity MasterChef 2008)
After an incident involving a stuffed rabbit, the actor famously went tonto at chef Marcus Wareing and stormed out the kitchen and off into the sunset.
https://youtu.be/cTbdNxdL9G8
11) The Professionals (2016 Bake Off Creme de la Creme)
Even the best cooks get it wrong and everyone was shocked when an ornate sugar swan on one of the displays spontaneously combusted while being judged. From 1:00:35...
https://youtu.be/q6F36FOKDIY
12) Amanda Barrie (Celebrity Hell's Kitchen 2004)
Another memorable cookery meltdown saw the actress attempt to slap Gordon Ramsay when he accused her of showing off – a real kitchen nightmare!
https://youtu.be/ktCPMOS4uwU
Article by Caren Clark
Get the latest updates, reviews and unmissable series to watch and more!
Thank you for signing up to Whattowatch. You will receive a verification email shortly.
There was a problem. Please refresh the page and try again.