MasterChef's Jimmy Osmond charged his family for making sarnies!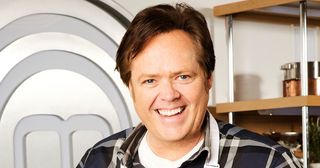 Jimmy Osmond, who's about to appear in BBC1's Celebrity MasterChef, reveals that as a small child his mother allowed him to lock the refrigerator and charge his older siblings for food!
Jimmy Osmond became a household name in the late 1960s as the youngest member of American sibling pop group The Osmonds, but he'll be swapping the studio for the Celebrity MasterChef kitchen this week…
Were you worried about how you'd do when you agreed to go on the show? "I've always cooked, but mostly simple foods, so this was a bit of a shocker because it's such a step up. It's very sophisticated and presentation is a big deal!"
Is your family pleased that you're going on the show? "My wife and kids say I'm a pretty good cook so hopefully they won't be too disappointed by my performance. My littlest girl and I, our favourite thing is to watch cooking shows together. We watch Celebrity MasterChef together so she's very excited for me to be actually on it! She thinks her dad's a hero for being on it!"
How did you get on with judges Gregg Wallace and John Torode? "The judges were hilarious, the knowledge they have is amazing. They can just look at you and you know if you're in trouble or not!"
How did you find the rest of the experience? "It's really unique. I've always made great friends from all the reality shows I've been on and I think this will be one of my favourites."
Who was your best friend on the show? "Audley Harrison was great fun. We'd hang out with each other on and off camera and cheer each other on with our various projects. He lives in America now, in Sherman Oaks, where I used to live, and he's just a really nice, fun-loving guy. He may be a tough boxer, but he's as creative as anybody. He's a very outgoing and friendly guy who always cheers others on."
Do you have any plans to meet up when the show is over? "We intend to meet up and cook with each other in America. He's going to come and see my show, I'm playing Vegas soon, and he has a hair-cutting salon in Sherman Oaks, so I'll go out and there and see him for a trim. He's a good family guy and we just kind of hit it off."
How did you get on with the cooking challenges? "I'm a good cook, but I make a huge mess in the kitchen. My wife says I always fix a problem with a problem around the house and that's the way I cook as well I guess! She says it's like a bomb's gone off when I finish cooking. But my food always tastes good at least."
What will the rest of the Osmonds say when they hear you're on the show? "They all know I'm crazy, but the food thing goes way back. I used to chain the refrigerator door when I was a kid, so none of my brothers or my sister could get food unless they paid me to make them a sandwich. My mum used to back me up when I did that to them. So that's how it all started. They'll laugh when they see me on the show!"
Will they get a chance to watch the Celebrity MasterChef? "They'll be watching on with interest because we're all very supportive. I suppose I should charge them to watch the show just like in the old days!"
Did you all enjoy cooking when you were kids? "When we were on tour a lot as little kids, but we enjoyed getting in the kitchen when we could. My brother Donny and my sister Marie would always pretend they had a hotel and I would pretend that I had little Jimmy's restaurant – that's the way we played."
Who is the best cook in the Osmond family? "I'm pretty good cook, but my brothers burn water. My mother was a fantastic cook on the rare occasions we were home, collecting recipes was her hobby."
British food didn't have a great reputation back in the 1960s and 70s, what did you think of it when you were on tour here? "I love English food and I never understood why Britain had a reputation for bad food, even when I was young I thought it was great! Nowadays Britain has some of the best restaurants in the world. I've always had great food in England. I love pub food, pot roast and fish and chips. I don't know maybe I'm a proper Brit – my heritage is there! I've never understood why it had a bad reputation."
Jimmy Osmond appears on BBC1's Celebrity MasterChef on Thursday and Friday, July 14-15
Sean has been writing about all things telly for over 10 years and in that time he's been lucky enough to interview stars like Ian McKellen, Tom Hardy and Kate Winslet. His favourite shows are The Great British Bake-Off, People Just Do Nothing and Succession and in his spare time he enjoys drinking tea, doing crosswords and watching football.
Get the latest updates, reviews and unmissable series to watch and more!
Thank you for signing up to Whattowatch. You will receive a verification email shortly.
There was a problem. Please refresh the page and try again.