Box Set Binge: The Following, Scorpion and Spaced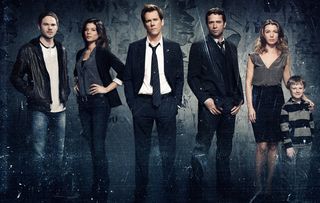 (Image credit: Everett/REX/Shutterstock)
Stuck for something to watch this weekend? Sit back and enjoy streaming stand-outs The Following (Amazon Video), Scorpion (Netflix) and Spaced (All 4)
Have a peek at these top shows available on streaming services Amazon Video, Netflix and All 4...
A former FBI agent is called out of retirement to help recapture the escaped serial killer he initially put away in this dark and twisty thriller. Watch all three series of The Following on Amazon Video now.
https://www.youtube.com/watch?v=QUutBr42Ouw&t=5s
When serial killer Joe Carroll (James Purefoy) escapes from prison, the retired FBI detective who captured him first time around, Ryan Hardy (Kevin Bacon), is called back into action to assist the manhunt. Officers seek out and secure Carroll's ex-wife, Claire; his son, Joe; and the only one of his victims to survive, Sarah.
As Ryan closes in on the escaped killer, he makes a sinister discovery - Carroll has created a following of disciples to carry out his twisted plans. These fanatical followers soon start to make themselves known - one young woman taking her own life in front of Ryan at Carroll's request. And the twisted killer has a message for his pursuer: this is only the beginning.
Drama series Scorpion opens with an elite team of US Government operatives descending on an isolated home in a small Irish town to make a critical arrest. Kicking down the front door and storming up the stairs, the operatives locate their target – a young boy called Walter who hacked into Nasa's mainframe, seeking some blueprints to put on his bedroom wall.
In the next scene, set in the modern day, Walter is an adult, awkwardly splitting up with his girlfriend. Little does the genius hacker know that his life is about to take an action-packed turn. Catch series 1 and 2 of the US drama on Netflix now.
https://www.youtube.com/watch?v=U402uMSRq1g
As an adult, Walter (Elyes Gabel) has bonded with a small group of fellow genius misfits - mechanical engineer Happy Quinn (Jadyn Wong), behaviourist Toby (Eddie Kaye Thomas) and 'human calculator' Sylvester (Ari Stidham). The gifted gang get an unexpected visit from Federal Agent Cabe Gallo (Robert Patrick), who wants to utilise their technical expertise to solve complex threats, unimaginable dilemmas and issues of national security. Single mum Paige (Katharine McPhee) is drawn into the operation as the socially inept team's office manager.
Their first mission is to help land aircraft after a major communication system is shut down. The team – dubbed Scorpion – faces a race against time to prevent a disaster in the skies. Will their high-risk plan save lives or cost them?
C4 sitcom Spaced made comedy heroes out of its co-writers and stars, Simon Pegg and Jessica Hynes (then Stevenson), and launched the career of director Edgar Wright. Catch both series of the cult comedy on C4 streaming service All 4 now…
https://www.youtube.com/watch?v=kVuCVmDWU-U
Daisy Steiner (Jessica Stevenson) and Tim Bisley (Simon Pegg) meet by chance in a café and bond over their uncertain futures. They're both looking for stable accommodation (Tim's been kicked out by his girlfriend and Daisy's a squatter) and think they may have found the perfect flatshare – until they learn it's for a 'professional couple' only.
Despite barely knowing each other, the pair conspire to pose as a couple to meet the requirements of landlady Marsha (Julia Deakin) – and to their surprise, they get the flat! Also living in the building is eccentric artist Brian (Mark Heap) and frequent visitors to the flat include Daisy's best friend Twist Morgan (Katy Carmichael) and Tim's pal Mike (Nick Frost).
The series, which is packed full of pop culture references and homages, follows Daisy and Tim as they navigate their lives and attempt to keep the truth from sozzled Marsha…
Get the latest updates, reviews and unmissable series to watch and more!
Thank you for signing up to Whattowatch. You will receive a verification email shortly.
There was a problem. Please refresh the page and try again.