Breaking Bad actor RJ Mitte: Celebrity Island with Bear Grylls is 'amazing'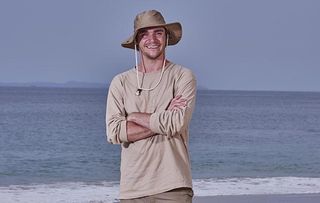 (Image credit: Channel 4 Television)
Breaking Bad actor RJ Mitte has revealed he spent a lot of time making fire as one of 10 celebrities coping with hunger, thirst and the elements as they fend for themselves on a remote Pacific island in the C4 show
RJ Mitte is one of 10 celebrities coping with hunger, thirst and the elements as they fend for themselves on a remote Pacific island in C4 series Celebrity Island with Bear Grylls, which continues this Tuesday. Here the 25-year-old Breaking Bad star tells us about his survival experience…
What was it like being on the island?
I really enjoyed it. It was one of the most amazing things I have done in my life. I would recommend it. If anyone has the opportunity to do it, they should definitely do it.
What did you on the island?
I spent a lot of time trying to make fire. I think a lot of that was caught on camera, but I did a lot of it off camera!
Did you know any of the other celebrities before hand?
I knew of a few of them. I knew (Olympic sprinter) Iwan Thomas personally, so I was really excited when I saw that he was going to be part of it. He is a natural leader. Even though people view him is an alpha male, he is sweet and kind and wants people to succeed.
What did you miss the most when you were on the island?
Running water! I am never taking that for granted ever again. I struggled the most with the lack of water and as I dehydrate really quickly.
What was the best part of being on the island?
The island itself - it was so fruitful. I was in awe the whole time. There were so many fruits and animals and birds on the island.
Did the experience change you?
100 per cent yes. You find out things about yourself and, if there is something you want to change about yourself, it gives you the inspiration to do that.
Celebrity Island with Bear Grylls continues on C4 on Tuesday at 9.15pm
Get the latest updates, reviews and unmissable series to watch and more!
Thank you for signing up to Whattowatch. You will receive a verification email shortly.
There was a problem. Please refresh the page and try again.