Robyn's baby goes MISSING in Casualty - star reveals shocking tot twist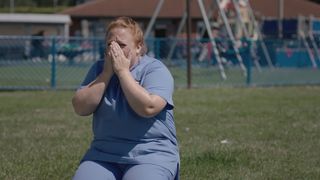 (Image credit: BBC)
Tragedy strikes in Casualty when Duffy leaves Robyn's baby in a park. Amanda Henderson gives us the inside story…
Nurse Robyn Miller makes a classic Casualty blunder this Saturday when she pops into work on her day off. In time honoured Casualty tradition Robyn finds herself roped into working a shift to help out Charlie Fairhead – who could say "no" to that face? But before the day is over Robyn regrets this decision like no other…
Duffy takes on babysitting duties of Robyn's two-year-old daughter Charlotte only to suffer a devastating dementia memory loss episode, leaving the youngster alone in a park.
Here we talk to Amanda Henderson, who plays Casualty nurse Robyn, for the inside story on this harrowing development…
Why does Robyn agree to work for Charlie?
Amanda Henderson: "Robyn has nice things planned with Charlotte for the day, but Charlie needs Robyn to work and she wants to help him and the department out."
Does she have any reservations about leaving Charlotte with Duffy?
AH: "Robyn sees Charlie and Duffy in a parental role. So when Charlie says Duffy is back to being her old self, Robyn thinks everything is going to be fine. She has a few reservations but Charlie convinces her it's okay. Robyn decides, as it's only going to be for a few hours, Duffy has looked after Charlotte millions of times before, and they're going to stay in the house, it should be okay. Basically Robyn trusts Charlie and unfortunately that trust gets broken!"
MORE: Walford WEDDING on the cards as THIS EastEnders legend proposes next week?
How does Robyn discover Charlotte is missing?
AH: "Duffy comes back to the ED because it's her safe space but her arrival causes instant panic for Robyn who assumes the worst. It's a hard-hitting storyline…"
How does she react?
AH: "Robyn's first question is – where's Charlotte? She doesn't know if her baby's been left on the side of a road, or if Duffy even took her out. She wants to know what's happened… but Duffy can't answer any questions about where Charlotte is."
It must be terrible for everyone?
AH: "It is, Robyn sees Charlie and Duffy as her parents. She cares for them. They're the ones who've always been there for her. And it's unwritten that she's always there for them. Right now, however, Robyn needs to put her daughter first..."
You can't say what happens regarding Charlotte. But can you reveal what the future holds for these much-loved Casualty characters?
AH: "Robyn realises that Charlie has been hiding how bad Duffy's dementia is. It's a big shock to her, because she's put her daughter's life in someone else's hands. Robyn feels she can't trust him any more. There are tough emotional scenes to come with Robyn, Charlie and Duffy... Watch this space!"
Are you glad this top secret storyline is finally going to be aired?
AH: "Yes, I've had quite a few comments recently about not having had a storyline in ages – everyone's going to smacked in the face with this one. It's a biggie!"
Casualty returns to our screens Saturday 16 November on BBC1 at 9.10pm
Get the latest updates, reviews and unmissable series to watch and more!
Thank you for signing up to Whattowatch. You will receive a verification email shortly.
There was a problem. Please refresh the page and try again.