Cathy Shipton: 'Casualty is going to go into some dark places...'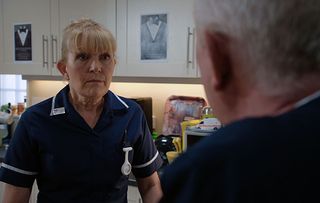 (Image credit: BBC)
Casualty star Cathy Shipton reveals how the BBC One medical drama will take some dark turns over the next few months…
Is it just us or is Autumn a particularly good season for BBC One medical drama Casualty? This Saturday in Holby-land viewers will witness nurse Lisa 'Duffy' Duffin wake up hungover and in a hotel room with childhood sweetheart, Bill Crowthers… a man who definitely isn't her husband and fan-favourite Charlie Fairhead!
Elsewhere, paramedic Iain Dean risks his life saving drug dealers from an explosion at a meth laboratory, triggering anguishing flashbacks to the night of paramedic Sam Nicholls's death. While doctors Alicia Munroe and Ethan Hardy turn matchmaker, determined that star-crossed Gem Dean and Rash Masum shall go to the medic's ball.
It's got all the right elements for excellent Saturday night drama - angst-ridden emotion, high-stake stunts and feel-good moments.
So, curious about Casualty's Autumn agenda, we talked to Cathy Shipton, who plays Duffy, for more…
Why do you think Casualty's Autumn seasons are consistently strong?
"It could be because in Casualty's first outing it went out in September. The show only had 12 episodes and so the conception of it was that this is when the nights draw in, people stay in, close the curtains and want some rollicking good drama."
And that tradition looks set to continue, if the Autumn trailer is anything to go by…
"Yes, although we now do over 40 episodes [a year] fortunately viewers do keep tuned in. There's a sense that between September and Easter that's when Casualty really bolts in their audience and lays the foundations for the rest of the year."
https://youtu.be/AVYedVBiJMk
You've mentioned that you enjoy drama in Duffy and Charlie's hard-won relationship. What else can we expect in the coming months?
"What Lucy [Raffety] our new [series] producer is bringing to the show is to really explore some very dark storylines in the lives of medical people. With our format being an hour, Casualty has time to develop those themes, both in the regular characters' lives and the guest lives."
What current storylines spring to mind?
"Dylan Keogh's story around his alcoholism and Ciara, the woman he's met. That's playing out over a long time and is going to go into some dark places. Iain's story too. It's bold to have long-playing stories."
Is it interesting to work in this way on a continuous drama?
"I think with the investment of the audience in the regular characters, there's time to explore the stories with much more depth. They take time and don't have to play out in one episode. For actors - and writers too - that's much more exciting and challenging."
Casualty continues this Saturday 27th October at 8:35pm on BBC One
Get the latest updates, reviews and unmissable series to watch and more!
Thank you for signing up to Whattowatch. You will receive a verification email shortly.
There was a problem. Please refresh the page and try again.