Coronation Street fans predict a steamy secret romance for one unlikely couple
Coronation Street viewers saw a spark between the pair!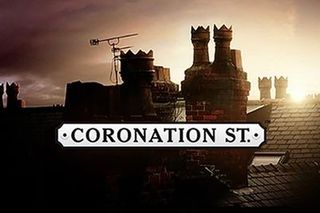 (Image credit: ITV)
Coronation Street viewers are predicting a steamy, secret affair between bad boy newcomer Damon and one of the women of Walford.
And after a chance meeting last night, they reckon Damon's got his eye on one of the Street's most no-nonsense characters.
Carla Barlow.
In last night's episode Carla crossed paths with drug dealer Damon in Roy's Rolls.
And their first meeting did NOT go well, with the pair bickering over whose turn it was to be served.
Corrie fans immediately took to social media to share their conviction that the early irritation between the pair meant they'd soon be having an affair!
"Well, that's Carla and Damon getting it onnnn," joked one viewer.
Despite Carla being happily married to Peter Barlow, the idea of an affair for her isn't the outlandish suggestion it might seem at first.
After all, both Carla and Peter have a history of cheating. Remember Peter's steamy affair with Tina McIntyre?
Or Carla's fling with her husband's nephew, Adam Barlow?
Then there's Corrie boss Iain MacLeod's revelation that Damon's arrival could cause problems for one Weatherfield woman.
There's something about a bad boy isn't there?" Iain teased. "He has a magnetic attraction for a high-profile female character who ends up having her head turned, which has far-reaching consequences."
Hmm, high profile? Carla certainly fits that description! And the fans agree, with one viewer wondering if "Carla could possibly be the woman Damon has a fling with"?
It's definitely possible!
And finally there's the unavoidable fact that Carla's more than a little bored with her life right now.
She was fuming on New Year's Eve when Peter announced he was working at Streetcars.
And she was even less impressed when he took the night off to take her for a glitzy, glamorous slap-up celebratory meal... at Speed Daal.
So frankly, we wouldn't be surprised if Damon caught her eye!
The fans have even pointed out, he's exactly Carla's type!
Though it would be fair to say that not every viewer is completely on board with the idea of a romance between Carla and evil Damon.
One viewer even begged Carla not to get distracted by Damon, because Cobbles Killer Stephen Reid is still lurking round Underworld and she needs her wits about her!
It sounds like 2023 is shaping up to be a dramatic year for Carla Barlow!
Coronation Street usually airs on Monday, Wednesday and Friday at 8pm on ITV. Check our TV Guide for more details.
Get the latest updates, reviews and unmissable series to watch and more!
Kerry is a writer, author and editor with a lifelong love of the soaps, a passion for TV drama of all kinds, and an obsessive devotion to Strictly Come Dancing.
She was features editor of All About Soap magazine for more than a decade, covering every bit of excitement from all the UK soaps and the Aussies and still writes about all the juiciest gossip from the Street, the Square and the Dales whenever she can.
Kerry's also an author of historical fiction, and her two jobs collided when she got the chance to write two novels based on Emmerdale, and the Sugden, Tate and Dingle families, during WW2.
Thank you for signing up to Whattowatch. You will receive a verification email shortly.
There was a problem. Please refresh the page and try again.