Coronation Street spoilers: Is David Platt planning a SHOCK revenge on rapist Josh Tucker?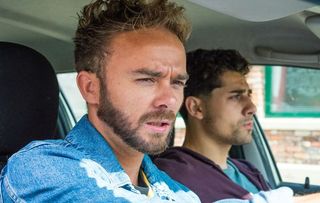 Coronation Street star Jack P Shepherd reveals what's in store when David comes face-to-face with his rapist Josh again...
David Platt is on the warpath in Weatherfield this week, after he discovers his rapist Josh Tucker is back on the Street and being helped by local vicar Billy Mayhew.
"David thinks Billy is an absolute hypocrite because he told David not to go anywhere near Josh, and yet here he is," says Jack P Shepherd who plays David. "He doesn't cope very well when he finds out. It seems like Billy hasn't thought about David's feelings, only his own."
But how far will David go to get rid of Josh, who made his life a living nightmare after the shock attack earlier this year?
In a sneak peek of next week's episodes, Billy is alarmed when he sees angry David bundling Josh into his car! But where is David driving Josh? And can David finally get Josh to confess to his crime?
Jack P Shepherd reveals what's in store...
What effect do you think Josh being released from hospital has had on David?
"He knows that Josh has been in hospital and he visits him before he goes away when Josh is in a coma. Then Josh wakes up and he's blind after being attacked. When David finds out that Josh has been released there's a bit of panic. He thinks 'what if he comes back here' and then he does come back to the street."
Do you think Billy and David will get past this?
"Anything can happen on Corrie. But David wasn't that much of a fan of Billy's in the first place so certainly now, I don't think that they will be friendly with each other."
How will David feel coming face-to-face with Josh again?
"Josh is wanting to make amends but it would take a lot to make amends to someone after what's happened. David doesn't take it very well and the conversation turns into an argument and it ends up with David putting Josh in a car and driving him off somewhere."
After confronting Josh again, will David finally be able to find some closure?
"It all depends what happens and what David sees fit to find that closure. It could be him turning him into the police, or killing him, or getting someone to beat him up. I don't think he'll find closure in Josh just apologising, or maybe he will. Since David has come back from his holiday in Barbados he's been a positive person so he might. But I don't think Josh is the type of person to apologise. I think he'd try and worm his way out of it by saying, "maybe we got the wrong end of the stick" or something like that."
Do you think the rape will affect David for the rest of his life?
"I've been in the show for 18 years now and played every single storyline you could possibly play. Ultimately in soaps, after a while the character must come to terms with what has happened to them and move on, then you can live out other stories. If they don't, then what do they do? Will they be depressed or do they leave? It comes down to that really. David has been through a lot, he's a resilient character. He's had numerous people trying to kill him before and his wife Kylie died, so there are things that he's got over and come out the other side."
https://www.youtube.com/watch?v=XoaMjZ5yVts
What kind of reaction have you had from viewers following this storyline?
"A nice reaction, just people saying that it's been a good topic and it needed to be addressed. It's interesting because when it was released in the press that we were going to do this storyline there was a lot of response with people saying it's disgusting, Corrie shouldn't be putting that on the screen, it's a family show. As soon as it went on screen people realised that you didn't see David get raped, all you saw was a door slamming shut and you knew what was going to happen after that. It let the audience use their own imagination. The storyline was more about the aftermath and the mental effect that happened with David. People got it and it was a good story, I think Corrie played it out really well."
Coronation Street continues Mondays, Wednesdays and Fridays from 7:30pm on ITV
Get the latest updates, reviews and unmissable series to watch and more!
Thank you for signing up to Whattowatch. You will receive a verification email shortly.
There was a problem. Please refresh the page and try again.