Coronation Street star Kym Marsh: Robert is a GONER if he cheats on Michelle!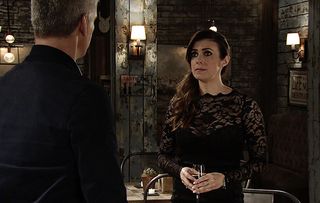 Michelle's back with Robert next week… but is he cheating on her?
Coronation Street star Kym Marsh says Michelle Connor will dump Robert if he cheats on her!
There's a very big smile on Michelle's face next week when she and Robert get back together. She is sure that, second time around, their relationship is for keeps – especially after Michelle hears Robert telling Daniel that he is okay with the fact that she doesn't want to have another baby.
"Robert's very keen for her to move straight back into the flat," says Kym, who plays Michelle, "and she thinks this is it for them; they've got their happy ever after."
But there's been something a bit fishy about Robert lately. When he took a break from the cobbles around the time of the factory collapse, he was very vague about where he'd been. More recently, he cancelled a lunch date with Michelle to go to the "wine supplier" but then turned up at a hotel.
More: EastEnders isn't on tonight - here's why!
And no sooner have he and Chelle reunited than Robert disappears to deal with some unfinished business.
Tabloid reports have suggested that Robert may have another woman in the shape of troubled single mum Vicky Jefferies. Tristan Gemmill, who plays Robert, has been spotted filming scenes with co-star Kerri Quinn (Vicky) in which their characters are kissing.
"In Michelle's head, there's nothing suspicious going on," says Kym. "Robert says he's helping out with young offenders, but to her, that's all very feasible. She's a very honest person, which is maybe why that's not on her radar.
"If there was another woman in the picture, she would never forgive Robert in a million years. She's been there with Steve and she wouldn't put up with it again – Robert would be a goner!"
Both Kym and Tristan have announced they are leaving Coronation Street later this year.
Given that secrets never stay that way for long in soapland, and Michelle isn't likely to forgive any philandering, are Chelle and Robert destined to go their separate ways?
Coronation Street continues on ITV at 7.30pm on ITV this evening.
Get the latest updates, reviews and unmissable series to watch and more!
Thank you for signing up to Whattowatch. You will receive a verification email shortly.
There was a problem. Please refresh the page and try again.