Coronation Street star Sue Nicholls on the return of Audrey's long-time rival Claudia!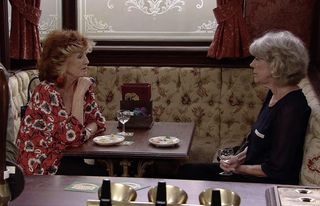 Get set for snipping, sniping and some surprising heart-to-hearts when Claud and Aud are reunited
It's hairdryers at dawn when Audrey Roberts' rival, Claudia Colby, returns to Weatherfield this week. The pair have always had a love/hate relationship – in business and in their personal lives. Audrey previously "stole" Lewis Archer from Claudia, while the pair also came to blows over Claudia's boyfriend, Marc Selby.
This time round, Claudia is set to put Audrey's nose out of joint by poaching her former assistant, Maria Connor. But amidst the back-biting, is true friendship about to blossom? Actress Sue Nicholls reveals more…
How does Audrey feel about Claudia (played by Rula Lenska) returning to the cobbles?
Sue Nicholls: "Audrey is a bit surprised and a little bit fed up because although they have known each other for a long time, they haven't seen each other, and Audrey does think Claudia can be a little it overpowering. I think there is a niggle with Audrey that she has a little corner shop salon. Claudia's place is in the high street and she's never backward in coming forwards in letting Audrey know that."
Can you describe their relationship? Are they more "frenemies" than enemies?
SN: "I think that is one way of describing it. They both know each other like women of a certain age do, so although Audrey's heart sinks when Claudia is showing off about one thing or another, when push comes to shove they can have serious conversations."
How do you think the return of Lewis Archer will affect their relationship?
SN: "I do feel sorry for Claudia because Audrey gets her claws into her men every time – first it was with Lewis and then it was with Marc Selby. Each time, she ended up with no-one, so the dynamic of Lewis being back will be interesting."
What is yours and Rula's relationship like in real life?
SN: "We get on very well and we have a lot in common. We have a natter in between scenes; she always has very interesting stories to tell. It is lovely having her around and it's nice to have a friend for Audrey."
What has been your favourite scene with Rula so far?
SN: "I've just done a scene which was very interesting, as we hadn't had one like that before. It had always been rather catty, snippy arguing with eyes heavenward, whereas this is quite a tete a tete in the salon and then in the restaurant. So I'm looking forward to people's reaction to that."
SN: Do you think it's good that Coronation Street gives big storylines to characters like Claudia and Audrey, and it's not just about the younger characters?
"I think it is, because the show stands or falls because of al the characters, and it would be a shame if they eliminated any generation. You need to have the little babies and the toddlers, then the glam characters and the more middle of the road ones - that is a community. All the ages interact with each other, and I sometimes think there are some lovely scenes with the older generations working out a problem with the younger ones, and missing out the parents inbetween."
Would you like this relationship to be developed further and for them to become friends?
SN: "It would be fun to see them doing things away from Weatherfield; the sort of things that women of that age do. We shall have to see if their friendship survives this business rivalry and the return of Lewis."
They are currently business rivals – could they ever work as partners?
SN: "I don't think so. If they did, they would have to run separate salons at least ten miles apart! The egos in both of them when it comes to business are far too big and I think that would be an issue."
Coronation Street continues on ITV.
Alison Slade has over 20 years of experience as a TV journalist and has spent the vast majority of that time as Soap Editor of TV Times magazine.
She is passionate about the ability of soaps to change the world by presenting important, issue-based stories about real people in a relatable way.
There are few soap actors that she hasn't interviewed over the years, and her expertise in the genre means she has been called upon as a judge numerous times for The British Soap Awards and the BAFTA TV Awards.
When she is not writing about soaps, watching soaps, or interviewing people who are in soaps, she loves going to the theatre, taking a long walk or pottering about at home, obsessing over Farrow and Ball paint.
Thank you for signing up to Whattowatch. You will receive a verification email shortly.
There was a problem. Please refresh the page and try again.