Rula Lenska: Charming Lewis Archer returns soon and Claudia is Audrey's shoulder to cry on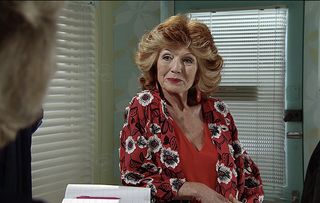 Salon boss Claudia Colby's back on the Street and about to go head-to-head with rival Audrey Roberts, says actress Rula Lenska…
Once Claudia Colby's name started being banded about around the Street, it was only ever going to be a matter of time before she re-appeared on the cobbles. The statuesque, sophisticated hair stylist with the striking auburn 'do' hasn't changed a bit since she was last in Corrie seven years ago. She rubbed Audrey's nose in it then and she's still at it now.
What's the story?
"Basically, it's the battle of the hairdressers – high-flying Claudia owns several of her own branded Perm Suspect salons in the area and she's in talks with Maria Connor to run one of her new franchises," actress Rula Lenska tells Soaplife. Prepare for hair-dryers at dawn!
What's happening in Coronation Street? See the latest soap storylines
Rula Lenska's interview with Soaplife about hairdresser Claudia Colby's return to Coronation Street
Soaplife: Aren't Claudia and Audrey supposed to be friends?
Ruls Lenska: "Yes. But, being in the same line of business, they are rivals, too. Claudia's quite catty towards Audrey to begin with, saying things like, 'Some salons are the future while others are stuck in the past' and inferring that Audrey's customers are mostly the blue-rinse brigade. I don't think she's being deliberately nasty to Audrey, though."
S: Really? What is she doing then?
RL: "This teasing banter is just the kind of thing that Claudia does, plus Audrey gives as good as she gets. Deep down, the two women are good friends and we'll see more of this as time goes on."
S: In what way?
RL: "A little later on, the devishly charming Lewis Archer turns up. If you recall, it was Claudia who originally introduced him to Audrey. We'll see Claudia being Audrey's shoulder to cry on as Audrey debates whether to get back with him or not. Claudia's caring side will come out."
S: How long is Claudia around for?
RL: "Until late autumn, at least. I'm delighted to be back and I think it's great that we'll have these two more mature ladies sparking off each other. They are two older women who like each other, but constantly bitch and try to get the upper hand! It's like real life. There's great potential for comedy here and some light relief from the darker and more serious storylines."
S: Perhaps Claudia and Audrey could join forces and go into business together?
RL: "I'd love that. My dream is that they amalgamate and start running a joint salon/studio where Claudia goes into semi-permanent make-up, tattooing eyebrows, applying false eyelashes and fake nails, and maybe even doing tattoos while Audrey sticks to her traditional blue rinses, shampoo and sets, and blowdrys."
S: What about a love interest for Claudia?
RL: "That would be nice. Someone sensitive, handsome, thoughtful…"
S: Ken Barlow possibly?
RL: "Who knows? Although I don't know if Claudia would just want to be the latest in a long line of many!"
Get the What to Watch Newsletter
The latest updates, reviews and unmissable series to watch and more!