Coronation Street's Jennie McAlpine reveals that Fiz is in for TWO huge shocks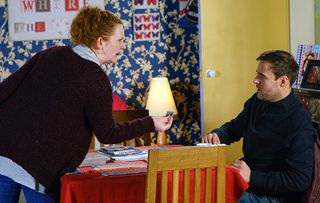 (Image credit: Mark Bruce)
Looks like Corrie fave Fiz Stape is in for a rocky ride in the coming months...
Fiz Stape is back with a bang! Just days after her return to the Coronation Street cobbles, Fiz makes a shocking discovery that turns her world upside down.
In the bed she shares with partner Tyrone Dobbs, she finds an empty condom wrapper, which forces Tyrone to admit he's done the dirty on her with Gemma Winter.
Jennie McAlpine, who plays Fiz, has opened up about what this means for her character, who is 'absolutely devastated' by Tyrone's confession.
'They have been though so much, and Fiz does say that. We have a lot of scenes where we talk about what Tyrone and Fiz went through to be together,' Fiz revealed to Digital Spy at a recent Corrie press day.
'She saw Tyrone at his most vulnerable with all the Kirsty stuff – and they got through that. She thought they were unbreakable, but that's not the case.'
But there are two sides to every story - and Jennie admitted that while Tyrone's actions were extremely hurtful, she can understand how it happened.
'I am sad! But Fiz hasn't been here. Tyrone has been on his own with two children – one of which is quite unruly – and has just had Sean to help.
'He says that Gemma has been a real help to him too… well, that's what he says. She has been a shoulder to cry on – and the rest!'
The actress then added, 'Why am I making excuses for him?!'
So are we going to get to see a showdown? Apparently so, according to Jennie.
'Fiz is a woman scorned. And don't forget she has been dragged up by Cilla! We want people to be surprised by the fight, because it's one that hasn't happened before on Corrie.
'It's in two locations – it spills from one to another. But it ends up on the street.
'It was great fun to film. It is a daft one.'
But Tyrone's cheating isn't the only awful surprise in store for Fiz, who will also have to face the revelation that her daughter Hope is responsible for the bad behaviour she's been blaming on Tyrone's daughter, Ruby.
'Well, the two storylines go side by side – this one with the kids, and then Tyrone sleeping with Gemma,' said Jennie.
'When Fiz finds out that it's Hope, it's after she has found out about the affair, so Fiz's whole world falls apart in the space of about three days.
'They have both deceived each other, because when Fiz first came back, Tyrone told her that Ruby has been behaving, so Fiz thinks all is good. Then she finds out all these things have been happening.'
Get the latest updates, reviews and unmissable series to watch and more!
Thank you for signing up to Whattowatch. You will receive a verification email shortly.
There was a problem. Please refresh the page and try again.